PEDESTRIAN.TV has teamed up with Asahi to bring you some old school gaming.
Get excited! The Rugby World Cup 2023 is here and fans across the world will be tuning in to catch their team in action. To celebrate, PEDESTRIAN.TV has teamed up with Asahi to bring you a brand new rugby-inspired video game, called Scrum Saga.
Inspired by Asahi's Japanese roots, Scrum Saga will take you back to gaming's golden era. It's set to give you vibes of Super Mario Bros and Flappy Bird, and comes alongside a killer soundtrack.

You'll jump into the game as a rugby legend, needing to collect as many goodies as possible, à la Temple Run. You've got to move your character around to collect icons (all rugby-inspired ones). There are also trophy power-ups, making you invincible so you can tackle enemy players for bonus points.

With the online version, getting the high score means a killer entertainment bundle may be coming your way. This includes a Samsung 65″ Q60C QLED 4K Smart TV, a Bose Bass Module and a Bose Smart Soundbar, so there'll be no need to stream off your phone.
In addition to our online version of the game, you can check out four old-school arcade versions of this game at one of the spots below.
Steyne Hotel – 75 The Corso, Manly, NSW
Royal Oak Hotel – 28 Bay St, Double Bay, NSW
The Rocksia Hotel – 299 Princes Hwy, Banksia NSW
Turf Bar – 131-141 Queen St, Melbourne, VIC
As an added bonus, the top leaderboard spot at one of the above venues could result in a $500 voucher to use for all things food and drink at a later date. The game will be kicking off on September 8 until October 28, so you've got plenty of time to work out how to get a high score. The competition is only open to people aged 18+.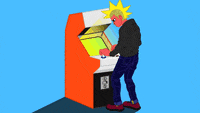 What are you waiting for? It's time to check out the game – who would've thought video games could result in this much reward? The game's T&Cs can be found here.

Image Credit: Getty Images