Apple is set to announce its new line of smartphones tomorrow morning, and according to some recent leaks, it's looking like at least one of the new iPhones will have dual SIM support.
[jwplayer sKZZk6x3]
The feature has, of course, been around in Android devices for years, but as is usually the case with the Apple, these things are introduced later for whatever reason. While the iPhone dual SIM rumour has been floating around for a little bit recently, a fresh post on the China Mobile Facebook page has fanned the flames. The image, which you can see below, shows an apple with two SIMs poking out of it beneath the words "New Apple with dual SIM?" above it.
China Telecom also put out an ad featuring an iPhone sitting next to two SIM cards along with the text, "New iPhone coming soon, dual SIM support, I've been waiting for you," but there's some speculation around whether or not it's legit.
GSMArena also published images of an alegged leaked iPhone which appears to have a dual SIM tray. Suss that below.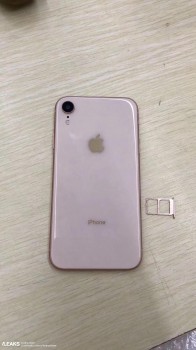 On top of all that, folks have spotted references to dual SIM support in some beta code for iOS 12, so it's looking like a pretty sure bet, but we won't know for sure until tomorrow.
The biggest question you probably have about all of this is why the fuck would you need a phone that holds two SIM cards? Well, the answer is, you probably don't, unless you travel a lot.
Commonly, a dual SIM phone allows you to switch between two different SIMs which can be on two different networks, making it a popular option for those who travel internationally. Instead of needing to dick around with physical SIM cards, you can just whack an international one in and switch between them as needed. Some will even let you use both SIMs at once, but they're pretty rare.
It's also handy for those who want to have a work number and personal number, but can't be bothered carrying two phones around. Or even just for compensating for shitty reception in certain areas where your main network fails. On the downside, this means you'll need to shell out for two phone bills.
Dual SIM phones, while certainly available, haven't been all that popular in Australia, mainly because telcos aren't keen to sell them if it means risking you using another network. Many are speculating that the feature is mainly aimed at the Chinese market, where it's a popular option and local competitors like Oppo and Huawei are already offer it.
Whether it's legit or not will be revealed tomorrow. I'll be up at the unholy hour of 3am to cover the event, so we'll have the details up early.