Every year, Apple's September announcements are usually headlined by its new range of iPhones, leaving everything else it talked about wallowing in an enormous rectangular shadow. If you're interested in the whole range of things the company announced today, you can suss them out below, but let me get this out of the way first – there's not much more.
[jwplayer ufxzSg8Y]
The biggest reveal, apart from the iPhone XS, XS Max, and XR, was the Apple Watch Series 4, which has a 30 per cent larger face while keeping the casing the roughly same size with a slightly smaller volume. The speaker is now 50 per cent louder, which is mad if you're keen on pissing people off on public transport. The digital crown has been re-engineered, along with some other things, like the microphone, which is now on the opposite side of the speaker to reduce noise feedback.
The Series 4 has a dual-core 64-bit processor which makes it twice as fast as its predecessor. You can now do fancy things like add the contacts you like heaps to the watch face, allowing you to contact them at a tap, as well as customise the corners of the screen with things like weather, or whatever fitness junk you monitor.
But what really pumps Apple up about the smartwatch is its health-tracking capabilities, and there are two fairly big improvements when it comes to that. Firstly, the Series 4 can detect if you've had a fall, giving you a notification which allows you to make an emergency call with a simple swipe. If it thinks you've had a fall and you've been unresponsive for one minute, it'll make that emergency call for you.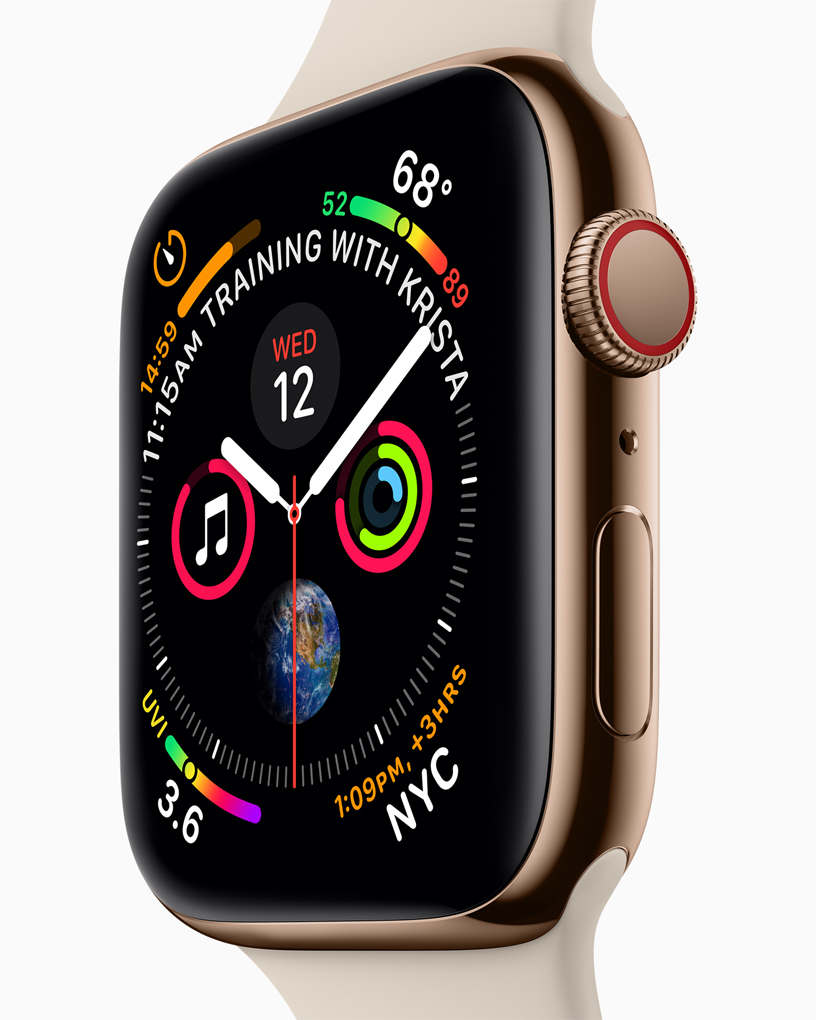 There have also been upgrades to the heart sensor which now allows you to give yourself an electrocardiogram, or ECG. This will tell you if your heartbeat is normal or if you need to get your ass to a doctor. It'll also send you an alert if it senses atrial fibrillation, which is also a bad heart thing. While it might sound like a bit of a gimmick, the features have been approved by both the American Heart Association and the FDA.
The battery life is the same, clocking in at 18 hours. The Series 4 will be available on September 21, with Watch iOS 5 available from September 17. Australian prices start at $599 for standard and $749 for the cellular model.
In terms of other announcements, there wasn't a lot, but there were some interesting points which I'll list for you below. Peruse them at your leisure.
The iPhone X was a bloody hit, boasting 98 per cent customer satisfaction.
Apple says it now runs on 100 per cent renewable energy, which is nice.
Bethesda's Todd Howard made an appearance to talk about the new Elder Scrolls mobile game, Blades. This isn't all that important, I just think Todd is cool.
There's an update to the Apple Home Pod which allows you to pair two of them together and also search for songs by lyrics.
Apple is coming up to selling its 2 billionth iOS device, which is just ludicrous.
And that about wraps it up, folks. Hopefully, there's something Apple announced today that you can torture your finances with.