Some people live and breathe skincare like weird, 24-step-routine nerds who wax lyrical about ingredients you've never heard of, "oooh you must use niacinamide! Hey pass me my ferulic acid would you beb?".
Some people have NFI about skincare at all and it's a miracle if they remember to wash their makeup off after a boozy night out.
If you're leaning closer to that latter category, I'm here for you. I, too was the equivalent of this Beyonce gif when it came to skincare, before I became a Beauty Editor for a magazine.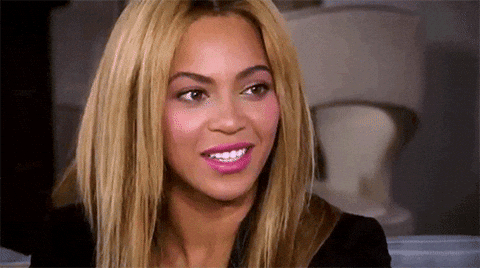 The good news is being accosted with beauty news all day, every day has educated me and I now know a LOT about skincare. So! Much! Accidentally downloaded! Knowledge!
So, let's talk serums. I did a whole story about where to start a while back, but tbh even I can admit sometimes your lazy level is "someone just tell me what to buy OK". Do I want to go investigate labels on products to see what ingredients are in there? No. Maybe eventually, but I think most skincare rookies can admit someone telling them a specific product to go get is the best starting point there is.
With that aside, I give you my fave serums for skincare newbies who just don't even get how to use a serum but want amazing skin (hint: you put a serum on after cleansing, before moisturising. Simple pimple.)
ESTEE LAUDER ADVANCED NIGHT REPAIR
This one comes in first off the ranks because it's my holy grail. I've been using it for years because no matter what state my skin is in (dry, being a sensitive little bitch, whatever) it doesn't irritate and does it's jobs – hydrates, fights fine lines, evens skin tone and make skin look all fresh and radiant. It's pricey but a little goes a long way, so you won't burn your way through a bottle or anything.
SKINCEUTICALS VITAMIN C, E AND FERULIC
HOO BOY, how's that price amirite? Well, take it in, and then listen up. This is the serum that a) dermatologists and facialists recommend on the daily, and b) beauty editors properly swear by. The first point is important because you know it works and contains potent ingredients if dermatologists are giving it the green light. The second point? As an ex-beauty editor I can tell you now that we've all tried 38560273 serums for free so if we're putting down our own cash for something, it's for a reason. C E Ferulic is all about preventing premature ageing – it provides 8 times your skin's natural protection from photoaging (what UV rays do to your skin) which is wild.
THE ORDINARY BUFFET
Guys, serums don't HAVE to cost a million bucks. They often do, thanks to tech and potent ingredients – but The Ordinary is one brand that's aiming to provide hard-working serums for a smaller price tag. Buffet is a great op for when you CBF getting around fancy ingredients (many of their serums are straight-up actives like hyaluronic acid, which can get confusing) – it's like an intro into anti-ageing serums, with peptides doing the work on top of a base of amino acids and hyaluronic acid, which work to help support your natural skin functions and hydrate.
DRUNK ELEPHANT C-FIRMA DAY SERUM
I use this every morning and it's phenomenal. It has a bit of a pong (thanks to all that Ascorbic Acid) but it's worth it for the amazing glow and evened out skin tone. Basically, vitamin C is crucial to get into your skincare routine because it fights against sun damage, which is one of the primo things (espesh under our Aussie sun) that makes you look older than you are, c/o fine lines and pigmentation.
CHANTECAILLE VITAL ESSENCE
Yes, it's $168. But it also has 99 reviews on Mecca and still retains a 4.5 star rating. That's pretty major. The reason? This is a do-it-all serum – it boosts collagen production, calms redness and irritation, pumps up your skin's hydration, helps reduce the appearance of fine lines and helps even skin tone. Tick, tick, tick.
SK-II TREATMENT ESSENCE
Okay this is TECHNICALLY an essence and not a serum, but you use it at the same time in your routine and it had to be included – SK-II essence is iconic, and loads of folks swear by it. It is kind of polarising – in my experience people with normal/oily skin love it sick, while people with dry skin sometimes find it does nothing for them. But it definitely has super-fans, so it's worth at the very least visiting an SK-II counter and seeing if you can score a sample to trial.
THE ORDINARY NIACINAMIDE 10% ZINC 1%
Pimple-prone folks, this one's for you. This combo of ingredients helps to reduce the appearance of blemishes and skin congestion (read: blackheads). They also help to balance visible sebum activity, meaning over time you'll probably notice less of an oily sheen to your skin.
KIEHL'S MIDNIGHT RECOVERY CONCENTRATE
This is kind of a face oil cross serum, but like SK-II and Advanced Night Repair, it's a long-time fave of many people globally and is worth including. It helps to regenerate skin while you sleep – our skin is working overtime during the night to repair itself from daily aggressors, so it's a great time to get started on serums. Evening primrose helps with the regeneration while lavender helps to soothe inflamed or irritated skin. Squalane then works to restore the skin's natural moisture balance.
OLE HENRIKSEN TRUTH SERUM
Again, this is a vitamin C based serum so it's great to pop on in the morning to give your skin a good chance at fighting sun damage. It's also hydrating and has a sweet collagen boost in there – it's kind of a modern classic in a way, US Sephora has 3,000 reviews for this baby and it's still got a 4.3 star rating.
Image: Instagram / @lucyhale