If there's one member of the royal family you really don't want to be shaded by, it's Queen Elizabeth II.
For starters, she's the monarchy's top dog, so what she says, goes. Add to that the fact she also appears to be the world's most-loved nan, and you have yourself a formidable matriarchal force.
Buuuut, it seems Meghan Markle – The Duchess of Sussex – might've just copped some serious shade from Queenie. And it all revolves around the Duchess' custom Clare Waight Keller Givenchy wedding dress.
An insider source is currently dishing some juicy scoop from the royal household, including the Queen's reaction to Meghan's off-the-shoulder bridal look. But it wasn't the cut she had a qualm with, it was the colour.
The Queen reportedly "expressed surprise that Meghan, a divorcee, wore quite such a white dress for her wedding".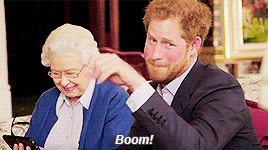 In the wedding world, white represents purity in all forms. Cue: antiquated standards of femininity as pure and virginal.
[jwplayer YSxwrdaK]
Back in the day it was considered very unusual for divorcees to remarry in a white gown. Thankfully, we've come a long way since then and you can wear whatever the eff you want.
or Lizzie, however, she still remembers the old way of things and had no problems making her thoughts known.
Is it just us, or is the Queen starting to sound a LOT like your own nanna?
The insider source went on to add that "Meghan is being told she needs to start dressing less like a Hollywood star and more like a Royal."
To date, Meghan's broken a plethora of royal style rules, especially on her royal tour to Australia.
One of the most notable instances of Meghan shunning the fam's fashion traditions was at her first solo public appearance alongside the Queen back in June, one month after her wedding to Prince Harry.
The source revealed that there was tension between the pair because the Duchess "declined to wear a hat after apparently failing to understand that when the Queen's aides informed her the Queen would be wearing one, that meant Meghan should follow suit."
Despite their sartorial differences, it's believed Lizzie and Meghan actually have a pretty solid relationship.