Contributor: Josephine Rozenberg-Clarke
It's very un-Australian of me to say, but I'm not a fan of summer. I like the general vibe — the beach, daylight savings, drinking ice-cold Aperol spritzes, sunglasses (because everyone looks hotter in sunglasses). But the actual heat, the Sydney humidity? Get in the bin. I hate you. See, I'm a sweater, big time. I constantly have a sweat moustache from Nov-Mar and it's very gross, and as a result, deodorant is obviously a must-wear item at all times.
[jwplayer Wuw8HwZt]
I've been a long-time subscriber to Mitchum's $3 classic, the Unscented Roll On. But lately I've been thinking a lot about what I'm putting in / on my body, and with the rise of natural deodorants, I thought I of all people would be a harsh and fair critic of which ones work and which ones do not.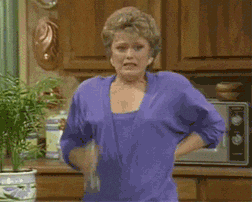 So my trusty senior style / features editor Mel proceeded to call in around 18 different natural deodorants for me. I tried roll ons, pastes, sprays. Natural deodorants scented with essential oils. Natural deodorants that were unscented. Natural deodorants with and without baking soda (which can be an irritant). To be fair on the deos, every time it was a hot day I wore a different one so that they all had a go at tackling my underarms when they are at their worst. Adding a layer to the challenge is the fact that I'm 8 months pregnant and currently running at about 10 degrees hotter than everyone else. These natural deodorants were put to the absolute TEST.
And though it pains me to admit this to you, most of them did not hold up. Basically, by the end of the day I had a bit of a BO vibe going on no matter which natural deodorant I tried. It varied — some days I took a whiff and it was like I wasn't wearing deodorant at all, and with other products it was only a faint odour. This is because natural deodorant doesn't actually stop you sweating (that's what those chemicals do), it just masks the smell. But I really wanted them to work, I want to stop putting aluminium onto / into my body and I want to stop using products that test on animals. So I decided to take the two best deodorants I tried — that is, the ones that left me smelling still okay by the end of the day — and combine them. And my friends, I found the solution that works for me.
So the best natural deodorant I tried was Black Chicken's Axilla Deodorant Paste. It comes in a tub and you scoop a pea-sized amount of with your finger and rub it on your pits. It has ingredients that are antibacterial, antinflammatory moisture-absorbing and that neutralise odour, like shea butter, coconut oil, baking soda and kaolin clay.
I found the Axilla paste to leave me with the most minimal pong at the end of the day, and also I felt like it was never sticky or wet under my arms, even on a 36 degree day.
But to really get rid of the BO vibes, I decided to team it with the nicest smelling product I tried: the KIND-LY Lavender & Bergamot Natural Deodorant. It's 100% vegan and cruelty-free, which I love, and has added probiotics and magnesium, so it's putting good things into your body every time you apply it. This one is a roll-on and not a paste, so I felt like it didn't reduce moisture as much as the Black Chicken product. But it smells bloody delightful, so one particularly hot day I doubled up with both products. GENIUS.
I didn't have wet pits and by the end of the day I didn't smell, either. Trust me, I put it through its paces on a 32 degree day while presenting a live episode of PEDESTRIAN.TV's podcast All Aussie Mystery Hour in a crowded room with no air-con under a hectic stage light.
While this combo of natural deodorants at almost $40 is a damn sight more expensive that my trusty $3 Mitchum, I feel better using it knowing I'm only putting natural ingredients onto / into my body.  The next test is a 40 degree day with 90% humidity. February, come at me.