How good are pillow fights? You're never too old for smacking someone in the head / body / crotch with a giant feathery mass, tbh.
That was the idea behind the launch party for hot AF couple Dan Single (ex-Ksubi) and Bambi Northwood-Blyth's sleepwear label P.Jamé (pronounced pee-jah-may, in true farshun style) at MBFWA last night.
Model twinsies Zac and Jordan Stenmark, Tahnee Atkinson and Inka Williams run amok in silky pjs, boxers, slips and onesies at the slumber party-themed live installation at The Boudoir in Sydney's The Ivy, plaiting each other's hair, taking polaroids and slugging each other with duck feather Europeans.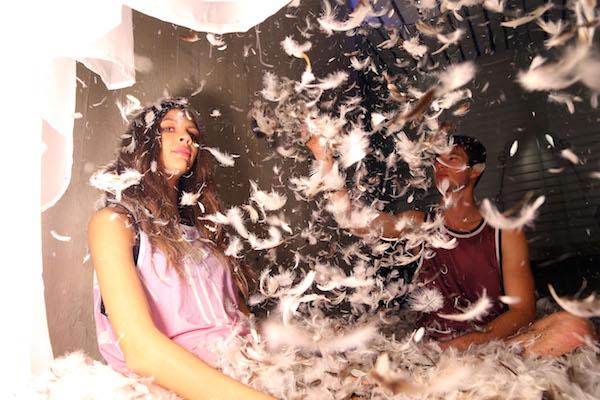 At one point, the Stenmarks lay in a giant hottub full of feathers while they casually read a book called 'How to be a Baller' – but not even their combined power could take away from the star attraction, Canadian model Winnie Harlow.
Dan & Bambi flew the 21-year-old – who has a rare skin condition called vitiligo and has become a kickass spokesmodel for fellow sufferers, starring in Yoncé's visual album 'Lemonade' – to Syders specially to help them launch P.Jamé with a bang.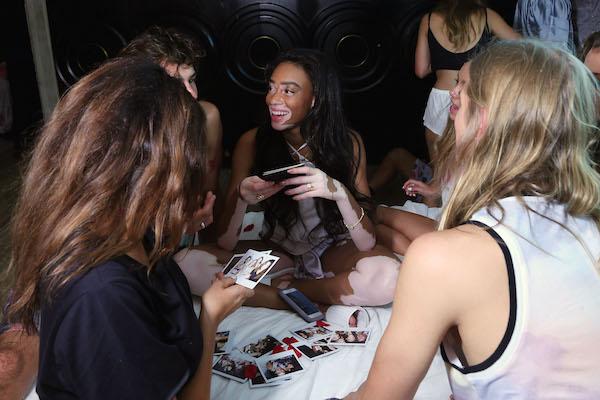 She's a bloody legend, and told PEDESTRIAN.TV she was "having the best night ever". Which is duh, 'cos anyone who gets paid to pillow fight and doesn't have a fkn ball doing it isn't worthy of such #lifegoals.
Guests Justin Hemmes, Vogue's Christine Centenera (who you know must love D&B because she actually wore the silk pjs people were given to put on), stylist Romy Freedman and a bunch of other fashpackers tore up the penthouse while special guest #2 DJ Mademoiselle Yulia spun fresh tracks.
There were more than a few sore heads this morning, no doubt, but that's MBFWA for ya.

If you missed our Facebook live video with Dan & Bambi yesterday, s'all good because you can still watch it.
We went full-creep to hang out with them in bed to talk all the important stuff, like foot fetishes and who's big spoon / little spoon.
CHECK IT:
Lead photo: Instagram / @fashion_week.
Photos: Getty / Graham Denholm.