If you've been secretly hanging out for Game of Thrones season nine to be confirmed, we've got some less than ideal news for ya.
As we feared, it looks season eight will be the final instalment of the gruesome but oh-so-satisfying franchise – especially if Maisie Williams' new hair style is anything to go off.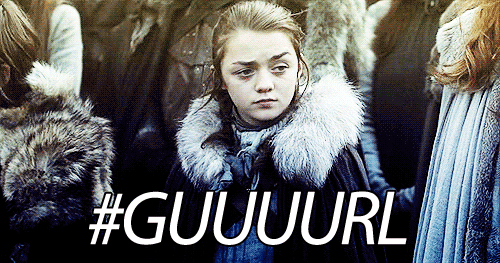 The show's resident tom boy recently debuted a very different bubblegum pink 'do on Instagram Stories and I don't care what you say, I'm into it.
Here's the lewk:
The colour, which sits somewhere between and brassy blonde and pastel peach, makes Maisie look like an actual doll. Like, how perfect is that match with the blush on her cheeks? Very rosey, much cute.
The funky pink situation comes a few months after Maisie went and got a full fringe – which I'm also very into.
Maisie isn't the only one ditching her signature GoT hair, with a handful of other cast mates mixing up their locks lately.
Back in June, Sophie Turner swapped her famous cascading ginger strands for an ashy blonde lob:
Emilia Clarke went one step further, debuting a choppy volumised bob in September after revealing how damaged her hair was from the show:
While it's sad to see some of our faves shedding their skins in favour of newer, fresher looks, we can totally understand why they're doing it.
Throughout the show, the cast were encouraged to keep their hair similar to their characters, which gets pretty old when you're playing the same role for over eight years.
But it's not just the women looking for a change, with Kit Harington explaining he's also keen to mix up his hair after the show:
"I haven't been allowed to touch it for years," he told Refinery 29.  "It's going to be weird, because it becomes part of your look as an actor. It's strange to think now that I can change it. Do I want to change it? Am I going to change it? I don't know."
Image: HBO