Lipstick-lovers nationwide are absolutely filthy after M.A.C.'s National Lipstick Day giveaway vastly underestimated the amount of people who'd be fanging for a free lippie.
The result? Thousands of put-out beauty aficionados who walked away from overwhelmed stores empty-handed.
Punters are reporting that heaps of stores sold out within 15 or 20 minutes of opening, and some say that there were only 40 lipsticks in stock to give away. News.com.au also reports that the line outside Adelaide's Rundle Mall store was 300 metres before 9am.
The people love their lipsticks.
Many lippie-lovers took to Instagram to express their deep disappointment at makeup Christmas being cancelled, with one summing up the killer combination of over-promotion and low stocks thusly:
"I'm very disappointed in yesterday's event as well, I went to Northlakes Myers, when I got there the line up wasn't too bad and I felt that I was standing in a place in line that would receive a free lipstick, 5 min before opening the doors people in front of us started being turned away due to such limited stock, I know every store only gets so many items to giveaway whether they say so or not…but being so widely advertised and then as poorly stocked as to only b able to serve something like the first 20-25 people or so?? If there were 50-60 lipsticks and people weren't doubling up, everyone in that line could've walked away with one. Also that we were told told as we were turned away we could enter a competition to TRY to win free lipstick, the staff member was lovely, but being told that after making the effort for this event, and knowing we could've just entered that competition from home just like anyone else who didn't turn up that morning was a bit insulting. I feel it was all a big waste of time and a morning for me and the other people who were turned away."
M.A.C. has responded with a statement apologising for not being able to keep up with demand:
"Thank you to everyone who visited M.A.C yesterday to celebrate National Lipstick Day and collect a free lipstick of select shades. We experienced the most overwhelming response and due to popular demand, many of our locations ran out of stock early on in the day.
"We gave away thousands of lipsticks across the day but know some consumers have missed out and we are really sorry to those left disappointed."
We're sorry too – we ahh, may have had something to do with that. We just got excited, okay! Free lipstick!!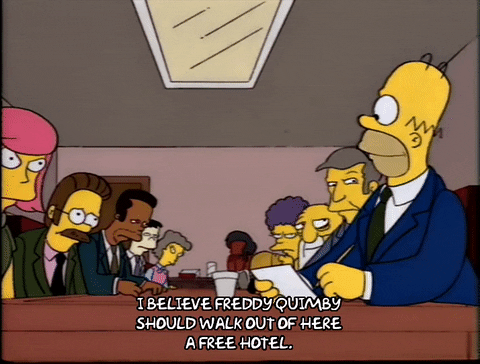 Never mind. There's always next year. Probably.
Source: News.com.au.
Image: KUWTK.