If there's one Kardashian family member who really doesn't need help doing her makeup, it's Kylie Jenner. At 21 years old, the youngest sister is now also the richest, following the stonking success of her Kylie Cosmetics empire.
With the debut of every new product, Kylie takes to Instagram to share how to use it with her followers, before modelling it on herself.
Oh and, of course, let's not forget about the time she showed Vogue her daily makeup routine from start-to-finish, which involved a whopping 36 steps.
Safe to say, Ky knows her way around a makeup bag.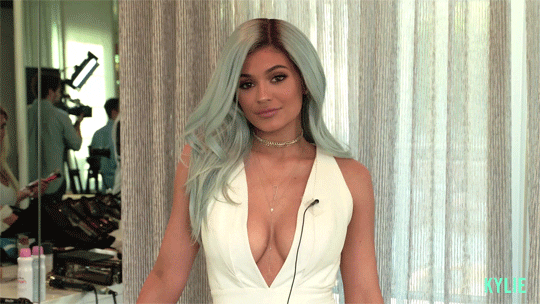 So you can only imagine her reaction when she was told she would have her makeup done purely by a robot for her latest mag cover.
Dazed Beauty teamed up with Kylie and Beauty_GAN (an Artificial Intelligence program) to create a futuristic series of images for her Issue Zero feature.
[jwplayer R96KTr5m]
The publication debuted the series of trippy images on their Instagram, with a caption explaining exactly how exactly the robot generated Ky's makeup:
"Kylie 2.0 by Daniel Sannwald. The photographer teams up with AI program Beauty_GAN to recreate Kylie as you've never seen her before in our final cover drop from Issue Zero of Dazed Beauty" wrote the publication.
"Beauty_GAN is the first algorithm of its kind. After analysing over 17,000 beauty-related posts on Instagram, the program trained itself to create original beauty imagery without the help of a human."
Pretty smart huh? So how does it look?
Welp, check it out for yourself:
https://www.instagram.com/p/BtePATHnm9s/
Whoaaaaaaa. It's equal parts dreamy and creepy IMO.
But wait, there's more, including this mermaid-inspired look:
https://www.instagram.com/p/BtePNGbnsUk/
And this shot that looks like a warped watercolour painting:
https://www.instagram.com/p/BtePfH_ncwh/
"Imagine a counterfeiter and a police officer producing fake money. The police officer evaluates the fake money, the counterfeiter produces better fake money, and so on, until they get it right," explains Lukas Rudig, a member of the Beauty_GAN group, told Dazed about the AI technology's ability to learn.
"How this technology becomes good at creating aspects of the human appearance as though it were photorealistic."