The Kardashians are no stranger to Photoshop accusations.
In fact, I've lost count of how many times the sisters have been publicly dragged for editing pictures and passing them off as 'real'. Over the years, Kim Kardashian, Kendall Jenner and even momager Kris have all been called out for posing alongside suss and ~bendy~ walls:
https://www.instagram.com/p/BjGH8DwAy5t/?utm_source
While Photoshopping your own picture is, arguably, your business and nobody else's, things start to get a little blurrier when you Photoshop somebody else's photo. Especially when that 'somebody else' is your own kid. And that's exactly what Kim's been accused of doing with her latest photo of five-year-old daughter North West.
The picture in question shows Kim alongside North and Saint on their family holiday to Brazil:
And it all looks pretty bloody cute, right? No crazy face filters or trippy walls in sight.
But it wasn't long before fans picked up on something odd about the photo…
After finding an original copy of the paparazzi picture, fans quickly noticed that the two images looked different.
[jwplayer R96KTr5m]
Kim's version had some pretty standard colour tone changes and shadow-lightening, however, this wasn't what bothered fans.
The issue arose when they detected North's body appeared to change shape in Kim's picture.
Here's the comparison:
https://www.instagram.com/p/BqFsqlfl2Po/
While Kim and Saint look practically the same in the second image, North has a noticeably smaller face and slimmer waist:
Fans made their thoughts on the matter known, commenting on the post:
"Why did you edit North's stomach to appear slimmer?"
"Just saw the before and after of you photoshopping norths belly. You should be ashamed. Let the kids just be kids!"
"I hope your daughter will turn out somewhat normal. She really had no choice in who her parents are. FaceTuning a 6 year old is disturbing, you should also seek help."
"Why are you photoshopping your daughter belly??? That's disgusting she's just a child."
While it's possible Kim was given an already edited copy of the paparazzi picture, and didn't realise there was a difference, we're not too sure…
Let's not forget, this isn't the first time Kim's been accused of Photoshopping photos of her daughter.
Back in 2013, Kim shared an image of baby North on Instagram, showing the toddler minus the monobrow she was spotted with just days earlier: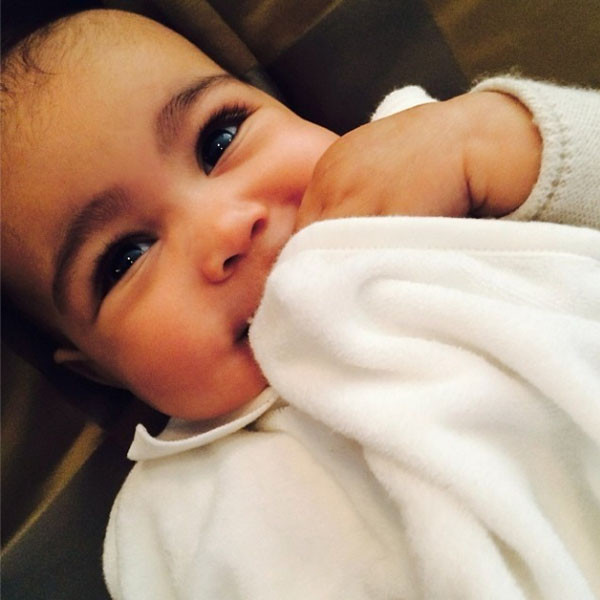 Since then, Kim has also denied waxing North's brow, prompting fans to believe the image was instead edited.
In short, we hope to god these Photoshop allegations aren't true. North West is way too young to have to deal with this shit.