Less than a week after the Kardashian's OTT Halloween celebrations, Kendall Jenner went all-out, once again, for her 23rd birthday party – because, if there's one thing we know about the Kardashian/Jenners, it's that they don't do things in halves.
The fam's insanely extra Halloween costumes are a case in point:
But we digress.
Over the weekend, a slew of Kendall's closes pals, including Bella Hadid and Joan Smalls, throw their supermodel mate one hell of a birthday.
[jwplayer R96KTr5m]
Things started out tame enough, with a ~leisurely~ bike riding around New York City:
Just LOOK at how happy she is:
As the day progressed, the group then hit up a NYC apartment, where Ken's mates surprised her with a homemade cake and balloon animals:
https://www.instagram.com/p/BpuhzwcB2XW/
https://www.instagram.com/p/BpvgDLihTzn/
It all looks wholesome enough, right?
But it wasn't long before things got v. extra, as the squad left pres for a night of karaoke. Their mode of transport? A private hire party bus:
https://www.instagram.com/p/BpvgIOZhRUc/
When they arrived at the venue, the crew hit up the karaoke booth, singing some absolute toonz by Whitney Houston and Alicia Keys to JoJo.
https://www.instagram.com/p/Bpvib8sBTti/
Um, can we take a second to talk about Ken's caption? Her footage of the singing was overlaid with a line which reads, "We're very much sober".
We get it, you're cool Kendall. No need to shove it in our face, okay?
https://www.instagram.com/p/BpvixS0BDxf/
But seriously, they look like they're having the time of their life.
Actual footage of me watching this footage: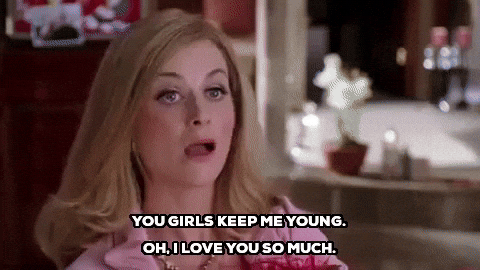 After the whole shebang was over, Ken then made her way onwards and upwards (literally), in a private jet:
https://www.instagram.com/p/BpvarKPBkjm/
https://www.instagram.com/p/Bpw-42IDGKy/
Ah to be young, famous and rich as heck.
Safe to say, we cannot relate.