PEDESTRIAN.TV has partnered with Tommy Hilfiger who have just launched their Tommy Jeans 3.0 capsule collection – check 'em on Facey HERE. You can buy the capsule now at all Tommy Hilfiger retail stores, as well as The Iconic HERE and Universal Store HERE.
---
Don't believe us? We at PEDESTRIAN.TV tested out the theory that a logo tee goes with everything and anyone, by getting (those willing) in our office to try it out with whatever they were wearing. 
If jeans and a tee is your go-to – good – a logo tee is perfect for you. Always a pleaser, the classic get-up works as an A+ base in winter for when you wanna style it up with a jacket, belt, statement boots and more. Plus, a logo tee is a lot more exciting than a plain tee with this look. We mean, look how much fun our Senior Style Editor Mel's having. So much of it. 
 
More of a pencil skirt or dress girl? Fine. Chuck a tee on over the top to dress it down, and tie a knot to the side to fit the silhouette you're going for. PEDESTRIAN.TV's Traffic Manager Georgia literally chucked this on over what she was already wearing and took her outfit from 10/10 to 11/10 real quick. It's a sure-fire way to add a caj element to a pristine aesthetic, too.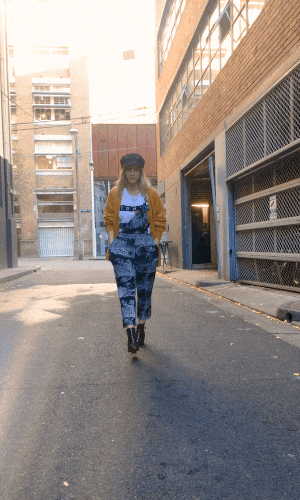 A white tee is a staple in a layering pro's wardrobe. Take our Creative Projects Manager Kristy for example – she'll literally wear as many things as she can in her wardrobe at any one given time. And considering everything in that mix is either textured, colourful or consisting of a print, a plain tee just seems like a kind of waste. Go all out.
If you find yourself repping a tougher, grunge-style look (or plenty of black-on-black), a logo tee is a good way to fang in a couple of colours all in one hit. If you're wearing high-waisted bottoms and a jacket like a lot of other folk in winter, incl. our Multimedia & News Writer Courtney, it'll feel less like a crazy addition to your staple look. You don't wanna leave people shook. But you may as well keep them interested, you know?
Now, if you feel like everything you own is from a thrift store like our Receptionist & Office Manager
Nat
,
you're good
. Logo tees work as the perfect way to balance out unique prints and combos as they're generally not too in ya face, like this
Tommy Hilfiger
tee that we put to work in our office. The block colouring means you can easily work it with other pieces that match – yet don't match 100% – and then break it all up with a neutral tone like beige checkered pants. 
Strictly monochrome peeps, like our Creative Projects Coordinator Paigge, can also get in on the action. In fact, it's a real subtle way to bring in a bit of colour as logo tees are usually black or white with not too much goin' on at the front. Look at the tee as your statement piece, you know?
Still reckon you can't pull of a logo tee? We're giving one of you the chance to deck yourself out in $1,500 worth of Tommy Hilfiger – you'll also be flown to Sydney for styling help from Yan Yan Chan. Enter below.