New York Fashion Week is among the most prestigious of the fashion weeks across the globe, and everyone who steps foot on Skylight Carson Square (or gets photographed there at least) will have you believe that it's fucking fabulous darling.
Is it actually? Well, we called upon The Fashion Institute – who have been sending a handful of students over to NYFW for the past four years – to find out. The students experienced the chic-as-shit, week-long festivities firsthand, lending their help across 20+ shows including Alexander Wang, Helmut Lang, Diane von Furstenberg, Calvin Klein, Kate Spade, Jason Wu + Dion Lee.
They overheard some shit, let me tell you. Ridiculous shit. Nonsensical shit. Entitled shit. Hilarious shit.
Fabulous shit? Your call.
Random, outside a show:
"You don't make it in this world with a fucking Mimco handbag."

Model, backstage:
"Dairy makes me bloated."

Wannabe crasher, at show check-in:
"The designer is my brother." (Note: the designer was a female.)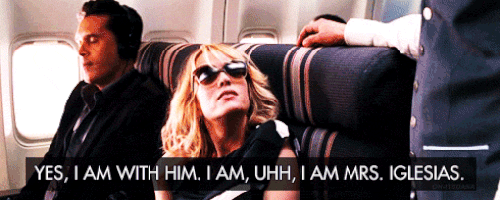 Punters, outside Skylight Carson Square:
Guy: "Do you want a cigarette?"
Girl: "I didn't know you smoked?"
Guy: "I don't, but I'm trying to start."

Random, outside Skylight Clarkson Square:
"You should see the men that come to watch fashion week, most of them can walk better in heels than the women."
Person arriving three hours late for the show: "Did I miss the show? If I can't get to see it, I paid $100 for my ticket and came from Russia, is there any way I can get a refund?"
Attendant: "No sorry, these shows are invite only so there's no way you could've bought your ticket."

Someone who's better than *this*, inside show:
"Take me to the front desk because I will not be standing at this show."
Manager, at show check-in:
"Do you expect my VIP client to wait out here with the rest of these regular people?"

Security at show check-in: "Can I see your barcode?"
Guest who clearly thought she was more important than she actually was: *points to face* "This is my barcode"

Production Manager, backstage:
"Could someone wrangle all models? I repeat, all models need to be wrangled. Tell them to stop fucking smoking out the back and fucking line up."
OUTSTANDING.
That fashion industry is really something.
Image: Zoolander