Guys, I can't believe I'm actually writing this but December is TOMORROW. Like, first of all: HOW?! But also, you know what December means.
Your sacred plastic Christmas tree is mere hours from being resurrected, along with those painfully shite car reindeer antlers your mum insists are "cute".
It's now also socially acceptable for fuck-off massive Xmas displays to crop up in shopping centers, and for ball-breakingly bad carols to play everywhere and anywhere, on repeat.
That's right folks, Christmas is officially nigh.  And the looming air of festive cheer will either make you feel one of two things: cripplingly miserable, or ecstatically happy.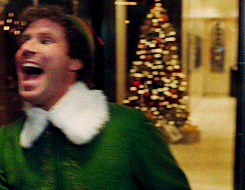 There's no middle ground.
If you fall into the former Grinch category, my deepest condolences. Aside from having to put up with the absolute insanity of crowded car parks and tacky decorations, you also have to deal with those cooked individuals who froth Christmas more than cricket fans jizz The Ashes.
I am one of those people.
It might be your partner's younger sister, your brother or even your uncle. Whoever they are, one thing's for sure: every group has a designated 'festive fucker'.
And chances are, if they're in your family or friendship group, you might also have to buy said Christmas hoon a damn present. But what do you buy someone who eats, lives and breathes Christmas, on their biggest day of the year?
Answer: Festive pyjamas.
They're cute, easy and will last that easily excited soul many, many years – due, at least in part, to their reluctance to dispose of anything festive.
Here we round up the very best Xmas sleepwear for any festive relative/mate:
COTTON ON
COTTON ON
Christmas Pudding Shorts, $24.95
ASOS
Christmas Shirt With Festive Cat Print, $28
ASOS
Christmas Trunks With Christmas Pudding, $12
PETER ALEXANDER
Christmas Penny Sleep Tee, $69.95
ASOS
Christmas Snowman Onesie, $70
COTTON ON

PETER ALEXANDER

ASOS

PETER ALEXANDER