Just when you thought Chrissy Teigen and her daughter, Luna Legend, couldn't get any cuter, this happens.
Overnight Chrissy took to Instagram to share some candid pics of what her life is really like behind-the-scenes, and the answer is bloody adorable.
While you were all out partying or catching some precious zzzz's, this little duo was living their best life.
[jwplayer KuvqrAX2]
The pics in question show Chrissy and Luna converting their lounge room into a festive cinema situation to binge watch some good ol' Disney movies.
Their flick of choice? Aladdin.
But rather than snuggling down in their trackies or pjs, Chrissy and Luna dressed up in matching Disney Princess costumes.
Chrissy emerged as Princess Jasmine (which makes sense given the movie choice) whereas Luna opted for the modern day Rapunzel from Tangled.
Check it:
Us right now: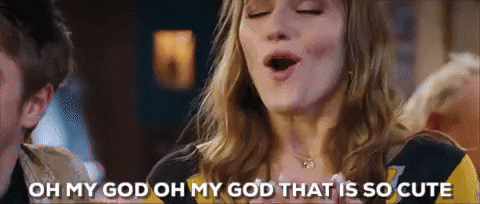 Name a more perfect Friday night – I'll wait.
Chrissy, who we love for being so damn relatable, then shared a picture of her costume from the back with the zipper going only half-way down the back of her crop top, captioned "the things we do".
It's official: we do not deserve this woman. Or this family for that matter.
Now, this isn't the first time Chrissy and Luna have sported matching mother-daughter looks and BY GOD I certainly hope this is not the last.
I mean, who could forget this adorable avocado #mood?
Of course, the older Luna gets, the greater the risk she might start to out-grow this whole thing because it's not 'cool' or in with ~the youths~.
All we can do is hope that we're at least a decade off from that happening. And, if/when that day comes, I am absolutely putting myself up for adoption with the Legends.
I'm not ashamed to say I need this level of cuteness in my life forever and always.