Cardi B came thru drippin' in the most feathery dress you've ever seen for the 2019 Met Gala which, I must say, certainly fits with the camp theme.
The controversial rapper wore a custom Thom Browne gown made from tulle and silk organza that extends outward in concentric circles for about three metres, making it extremely difficult to use the toot, I'm sure.
The hand-embroidered dress is also decorated with 30,000 burned and dyed coque feathers and it's finished off with a bugle-bead headpiece that Browne made in collaboration with Stephen Jones.
Vogue reports that it took 35 people more than 2,000 hours to create the gown. No biggie.
Browne told the publication that his inspiration behind the dress was the woman's form.
"I designed this dress for Cardi specifically because she has the ultimate beauty in a woman's body, and that is what the dress is about for me: taking advantage of that beauty," the designer says.
And why the feathers, you ask? My guess is that Browne has seen that interview where Cardi says her infamous "Okurr" catchphrase is meant to sound like cold pigeons in New York during the Winter.
Yep, that must be it.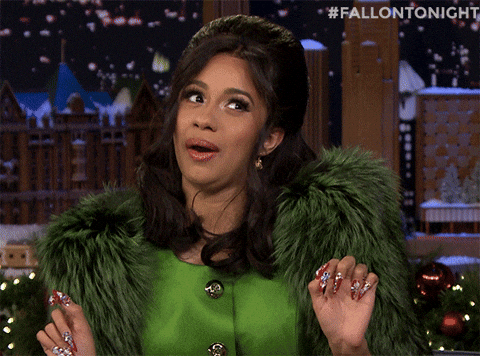 Image: AAP