Anyone who's seen Ariana Grande in her iconic 'Thank U, Next' music video knows that the 25-year-old is heavily influenced by cult classic, early 2000s movies. And, to be honest, same.
From Mean Girls to Bring It On, Ari's five minute homage to all things noughties is like nostalgic catnip for anyone born after 1980.
But it seems Ari's tributes to the decade of pink velour and rhinestones doesn't stop with her music vid, no sir.
As a 'thank u' to fans for her latest banger staying at number one for almost two months (!!), Ari took to Instagram to post yet another throwback-inspired shot.
[jwplayer KuvqrAX2]
For the occasion Ariana channelled Elle Woods from Legally Blonde by wearing an oversized bubblegum pink fur coat, matching satin heels and white stockings while walking her dog Myron (a slightly bigger version of Bruiser Woods).
"thank u for seven weeks at number 1, what a beautiful start to this year #thankunext #ipickedupshitafterthis" she captioned the post.
Lol can someone please make the #ipickedupshitafterthis hashtag start trending? Thanks.
Side note: I have never noticed until now just how similar Elle Woods and Ariana's Scream Queens character, Chanel #2, are: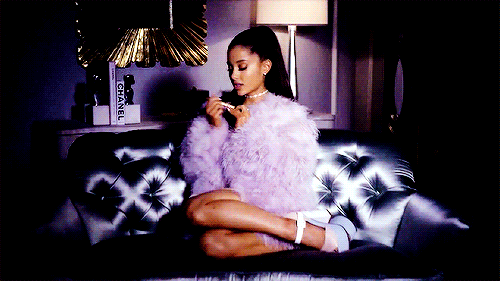 Co-incidence? I think not.
As if ringing in the new year at number one, after weeks in the top spot, wasn't a big enough achievement, Ariana's also gone and scored a place in the 2019 Coachella lineup, making her the youngest Coachella headliner ever.
Ari follows in the footsteps of Beyoncé, who headlined last year's event, and will perform alongside the likes of Childish Gambino and Tame Impala.
All I can say is I'm VERY excited to see what outfits Ariana whips out on stage.
In short, if you thought 2018 was Ari's year, you might wanna think again because one week in and she's already slaying 2019 like a total queen.
Long live Ariana and her glorious 2000s vibes.