ICYMI: The Victoria's Secret Fashion Show filming is officially underway and, between the hectic backstage prep and first-class celebrity performances, this year's runway is already shaping up to be a corker.
But there's one event that's left us kinda devo about this year's runway: long-standing VS Angel, Adriana Lima, just announced this will be her last ever VS show.
Current mood: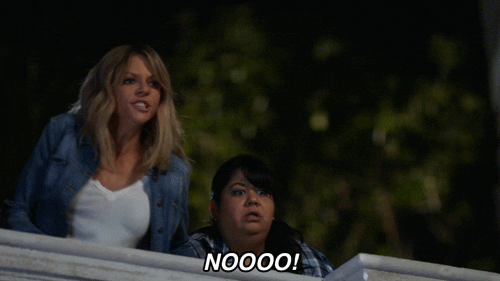 Aussie model, Georgia Fowler, hinted at the news earlier today, telling reporters that this "will be her last year this year I think".
[jwplayer R96KTr5m]
When Adriana then made her way down the runway, the crowd went crazy with applause, causing the 37-year-old model to burst into tears.
Watch the emotional clip right here:
Adriana Lima on the runway! I'm crying too #VSFashionShow #vsfs18 pic.twitter.com/tS0427t50L

— Victoria's Secret (@vsactu) November 8, 2018
Yup, that's a STANDING OVATION fam. And well deserved, because she's a bloody angel in real life too.
Adriana then took to Instagram to confirm the rumours once and for all:
"Dear Victoria," wrote Adriana. "Thank you for showing me the world, sharing your secrets, and most importantly not just giving me wings but teaching me to fly. And all the [heart emoji] to the best fans in the [world emoji]! Love, Adriana"
I'm not crying, you are.
Adriana's fans are now taking to Twitter to express their devastation at the end of an era:
https://twitter.com/matiasdsi/status/1060655928293445635
https://twitter.com/LloydMataba/status/1060676121908428801
https://twitter.com/RENATISHA/status/1060674619387056128
https://twitter.com/Mr3rdWardTrill/status/1060230328462139393
https://twitter.com/typicalari/status/1060680935253987330
Adriana's walked the VS runway for 19 glorious years (which is practically unheard of), starting off as a little baby-faced hun back in 1999:
To honour her illustrious VS career, here are some of her most iconic show looks over the years.
First up, check out these INSANE wings that look like actual fire:
How about this killer look from last year's show?
Ofc, let's not forget the year she wore the Fantasy Bra duo alongside model mate Alessandra Ambrosio:
Honestly though, how is she so perfect?
I am deceased:
Long live kween Adriana:
We are not worthy:
All Pictures: Getty Images