ICYMI: The Victoria's Secret Fashion Show filming is officially underway and, between the hectic backstage prep and first-class celebrity performances, this year's runway is already shaping up to be a corker.
But there's one event that's left us kinda devo about this year's runway: long-standing VS Angel, Adriana Lima, just announced this will be her last ever VS show.
Current mood: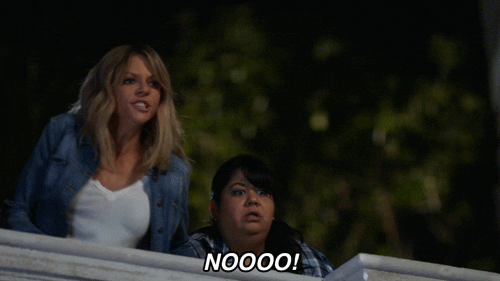 Aussie model, Georgia Fowler, hinted at the news earlier today, telling reporters that this "will be her last year this year I think".
When Adriana then made her way down the runway, the crowd went crazy with applause, causing the 37-year-old model to burst into tears.
Watch the emotional clip right here:
Adriana Lima on the runway! I'm crying too #VSFashionShow #vsfs18 pic.twitter.com/tS0427t50L

— Victoria's Secret (@vsactu) November 8, 2018
Yup, that's a STANDING OVATION fam. And well deserved, because she's a bloody angel in real life too.
Adriana then took to Instagram to confirm the rumours once and for all:
"Dear Victoria," wrote Adriana. "Thank you for showing me the world, sharing your secrets, and most importantly not just giving me wings but teaching me to fly. And all the [heart emoji] to the best fans in the [world emoji]! Love, Adriana"
I'm not crying, you are.
Adriana's fans are now taking to Twitter to express their devastation at the end of an era:
I'M CRYING SO MUCH ADRIANA LIMA YOU'RE A TRUE LEGEND pic.twitter.com/s7VRhGigad

— ingrid (@matiasdsi) November 8, 2018
Adriana Lima crying while walking on that runway is so heart breaking ????????????????

— LB. (@LloydMataba) November 8, 2018
I just heard that this is Adriana Lima's last VSFS and I'm crying at the office.

— Renata Aguilar (@RENATISHA) November 8, 2018
An era has come to an end.

This year's Victoria's Secret Show will be Adriana Lima's last. The writing was on the wall, but it's now officially.

Hold me. I'm crying. pic.twitter.com/8CemcEw34R

— Black Tommy Pickles (@Mr3rdWardTrill) November 7, 2018
it's adriana lima last show. i'm crying she was one of the superior angels https://t.co/VX9FBR7dXH

— ???????????????? 222 (@typicalari) November 8, 2018
Adriana's walked the VS runway for 19 glorious years (which is practically unheard of), starting off as a little baby-faced hun back in 1999:
To honour her illustrious VS career, here are some of her most iconic show looks over the years.
First up, check out these INSANE wings that look like actual fire:
How about this killer look from last year's show?
Ofc, let's not forget the year she wore the Fantasy Bra duo alongside model mate Alessandra Ambrosio:
Honestly though, how is she so perfect?
I am deceased:
Long live kween Adriana:
We are not worthy:
All Pictures: Getty Images
Image: Getty Images / [Pascal Le Segretain]