If you're a fan of pastels, satisfying symmetry and everything twee, you'll be stoked to know that Wes Anderson has begun shooting on his next film, The French Dispatch.
While The Isle Of Dogs is sitting rather pretty for an Oscar nomination this year, Anderson's busying himself with his tenth feature – this time going back to the quaint live-action that we know and love him for.
Anderson's enlisted some of his classic faves in The French Dispatch, including Bill Murray, Tilda Swinton, and Frances McDormand, and has also apparently picked up Timothée Chalamet, Benicio Del Toro, and Jeffrey Wright for their first run at an Anderson feature.
As reported by Indiewire, The French Dispatch is about a Paris-based office of an American newspaper in the 20th Century, and despite what's already been whispered about this new film, it's apparently not going to be a musical.
The film is apparently a "love letter to journalists" portrayed across three storylines, so I guess we can expect a bunch of offbeat editors racing around Paris with film cameras slung around their necks trying to get the Big European Scoop to beam back to the States. Maybe there will be some twee-as-fuck love interest who speaks in haikus only or something equally as kitsch. Whatever happens, it'll be classic Wes Anderson and it'll be good as hell.
Despite earlier reports saying that filming was meant to start in February of 2019, keen eyes around Angoulême in the southwest of France have spotted things that look very much like film sets around the traps. If it's true that Wes Anderson's going to film this one in four months, we might just be looking at a March/April wrap, so it'll be interesting if he can get this one in the bag for a late 2019 or early 2020 release.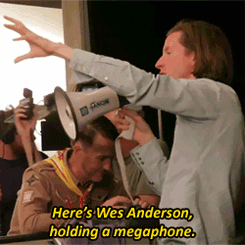 It's also the first film that he's shot in France, and considering he lives in Paris it's half-surprising that he hasn't shot on location in the country before. We'll keep you updated as more info on this one comes out.
Source: IndieWire
Image: Getty Images / Matt Winkelmeyer