Three questions: are you a man into men, or a woman into women? Are you single and ready to flamingle? Do you love puppies? Well today is 100% your lucky day because this very specific Venn Diagram is overlapping on March 11 with a speed dating event for queer folk, and it involves puppies.
The master matchmakers over at Hello Pluto are running a special speed-dating night at Newtown Hotel next Sunday afternoon.
The event itself is BYOD (meaning Bring Your Own Dog), and if you don't have a four-legged wingman, then you can nuzzle in with a foster pups from Rocky's K9 Rescue while you chat away on one of your 20 dates.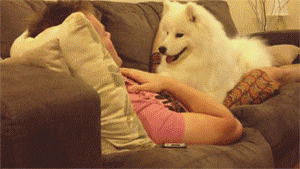 You can grab tickets and pick your preferences over HERE, and you can also pick up some raffle tickets for your pooch so whatever way the cookie crumbles, one of you might end up being a winner.
All profits from ticket sales and the raffle is going to Rocky's K9 Rescue so even if you don't find comfort in another human person, you're giving some much-needed funds to some very vulnerable puppos.
Image: Getty Images / Meera Fox