During the presentation of Best Comedy Album, MC of the evening James Cordon assured those who were nominated but didn't receive the big golden gramophone would be awarded consolation prizes – and yes, they absolutely were consolation puppies.
I should say to all the nominees that who are not going home with a Grammy — I don't want anyone to be upset tonight so the good news is nobody goes home empty handed because all night we will be handing out consolation puppies. So if you didn't get a Grammy, you get a puppy.
Puppies. PUPPIES. Forget the award and forever being known as "Grammy Award-winning". I want me a God damned PUPPY.
As the award was awarded to Dave Chapelle for The Age Of Spin & Deep In The Heart Of Texas, and the runners-up, as promised, were handed puppies by voulteers to cuddle and feel better about their narrow loss.
Please, enjoy this gif of Jerry Seinfeld being completely stoked on holding a tiny woofer.
Other losers winners included Sarah Silverman and Jim Gaffigan, who both looked stoked as hell to be given tiny adorable balls of fluff instead of some cold, definitely-not-as-cute, silent, golden statue that will not wee on your expensive outfit and maybe lick your ear.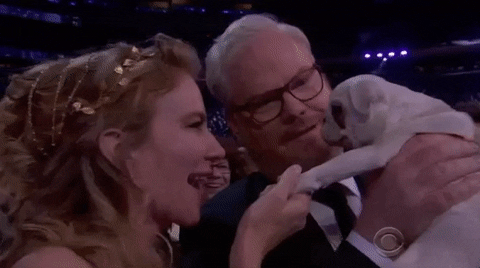 AWWWW STOP IT. Look at these wee pups who have absolutely NO idea what's going on and just want to go back to bed.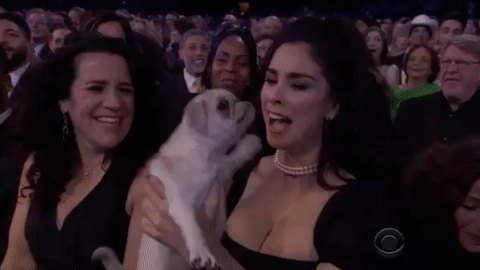 This little pal is having absolutely none of this glitz and glamour bullshit. Please Sarah, put me down IMMEDIATELY I demand that you unhand me so I can snarf around under everyones' chairs just in case someone has dropped a snack for puppies.
Anyway, these little bebs were clearly the best thing about the night – some humans won some awards or something, I'm pretty sure. Now please direct these sweet angels to the nearest bowl of chow immediately, and a golden toilet bowl from which to drink heartily.
Image: Getty Images / Kevin Mazur