A fluffy tabby by the name of Baloo has been reunited with his family in Nova Scotia, after accidentally being couriered in a box destined for Alberta, British Colombia. Literally on the other side of Canada, which is absolutely not a small place.
According to CBC News, Baloo had found himself a very nice napping spot indeed, which just so happened to also be a box containing a tyre rim that his human, Jaqueline Lake, was shipping to the other side of the country.
Lake told CBC News that she had felt that one box was a little bit heavier than the others, but had just thought it was something to do with the tyre rim and sent the box containing Baloo on its merry way.
Baloo probably just saw a box and thought "thank you very much I shall claim this as my new cardboard kingdom for napping and maybe cleaning myself."
Luckily, Baloo's adventure was cut short in Montreal, where staff from the courier company found the little inadvertent adventurer in the back of a truck after he'd escaped from his cozy little cat napping box, and contacted the local SPCA (Canada's humane society).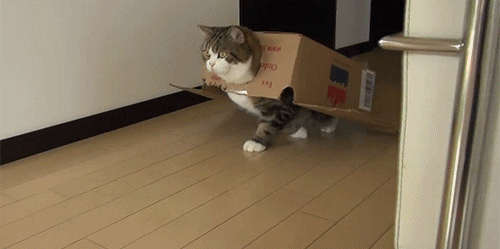 The little scamp had been missing for four days at this point, and Lake and her family were worried sick, putting up 'lost cat' posters and looking under sheds in their area to see if he'd wound up in a neighbour's yard.
After getting the call from the Montreal SPCA, Baloo was given a free ride back to his humans – and more importantly, his food bowl – just in time to be doted on for Christmas.
My favourite part about this whole ordeal though, is the look on the little ratbag's face in this photo, where he's clearly realised that he's absolutely not going to be trusted at all ever again.
Cat accidentally shipped to Montreal in parcel reunited with N.S. family https://t.co/xeFfoV1iuS pic.twitter.com/VRpSM1lPSw

— CBC Nova Scotia (@CBCNS) December 16, 2018
LOOK. AT. THAT. FACE.
If anything, let this story of Baloo's Big Adventure across Canada be a reminder to check any and all boxes before you go shipping them off, just in case there's a moggy having a lil' snooze in there.
Source: CBC Nova Scotia
Image: SPCA Montreal