It's probably one of the most Instagrammed pools in Sydney, and now at the end of the swim season, Andrew Boy Charlton pool is hoping to throw open the gates for Sydneysiders' puppies to come down for a very special pool party.
As per the Sydney Morning Herald, the decision to open up the Woolloomooloo Bay-adjacent pool in the Royal Botanic Gardens to four-legged friends was voted unanimously by the Sydney City Council this week, and will now go to the Department Of Health for approval.
Inspired by public pools in New Zealand that let a bunch of pups loose to have a paddle, the 'ABC' will (hopefully) send it to the dogs on the last day of the summer swim season before the pool gets drained and cleaned over the winter.
Deputy Mayor Councillor Linda Scott told the SMH she believes the last day of the summer swim season is a perfect time to let the dogs out, as the pool would be due for its post-season clean anyway. Any costs to clean the pool post-pup party would be essentially covered by the existing cleaning routine.
The new inclusion to the pool's calendar allows for inner-city pooches to have a bit of a splish-splash around and cool off, which can be a tricky thing to do when many of Sydney's beaches are dog-free zones.
The swim season ends on April 30 each year so once the plan is approved by the Dept. of Health, you'll be able to take your best mate for a dip down the pool. What better way to round out the summer swim season than by surrounding yourself with dozens of very happy puppies having a big splash at Andrew Boy Charlton?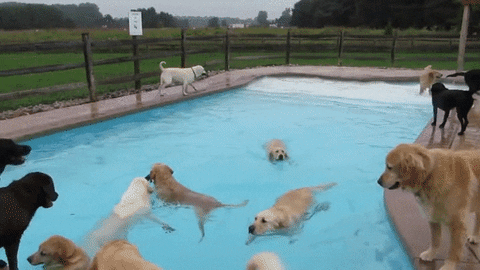 Source: SMH