Personally, the coolest thing I have ever found on the ground is a $10 note. I haven't, for example, ever found a strikingly well-preserved 40,000-year-old wolf head on the banks of the Tirekhtyakh River in Yakutia, Siberia. Not even once. This is not true of a man named Pavel Efimov, who did exactly this last year, while out looking for preserved mammoth ivory.
As The Siberian Times is reporting, this is the first time any intact part of a full-sized Pleistocene wolf has been found and — boy oh boy — is this head intact. Preserved in permafrost, the head not only has intact fur and teeth, it still has an intact brain.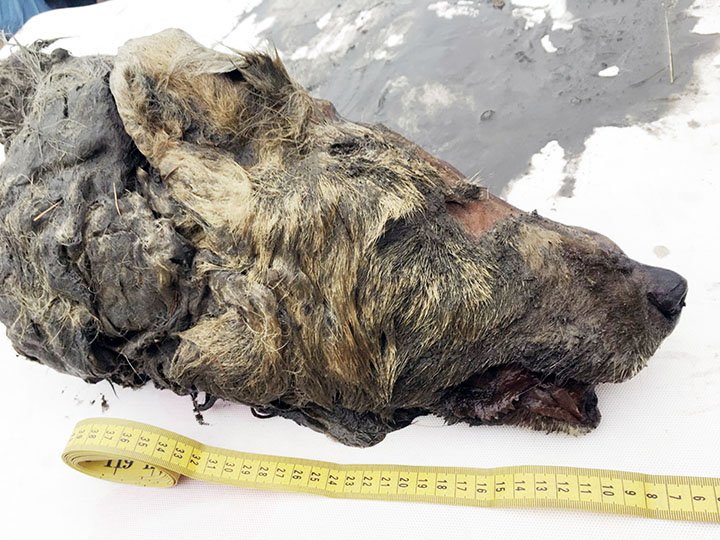 Photo: Albert Protopopov.
The head is 40cm long and believed to have belonged to a wolf that was somewhere between two and four years old when it died. Albert Protopopov, director of the mammoth studies department at the Academy of Sciences of the Republic of Sakha, told CNN that they had found cubs before, but never an adult: "This is the first time the head of an ancient wolf has been found whose soft tissue has been preserved after 40,000 years, a grown wolf."
Protopopov says that the head will have its brain scanned, with a team at the Swedish Museum of Natural History in Stockholm preparing to analyse its DNA. "This is a unique discovery of the first ever remains of a fully grown Pleistocene wolf with its tissue preserved. We will be comparing it to modern-day wolves to understand how the species has evolved and to reconstruct its appearance," Protopopov told the Siberian Times.
If you can tell me something more metal than finding a giant 40,000-year-old wolf's head half buried in Siberian permafrost while out hunting for ancient mammoth ivory, then I would bloody love to hear it.
Image: Albert Protopopov