There's a few people working here at PEDESTRIAN.TV who believe that UFO activity and the aliens who pilot them are absolutely real. Lucky for you, person who has clicked on this article with great interest, I am one of them.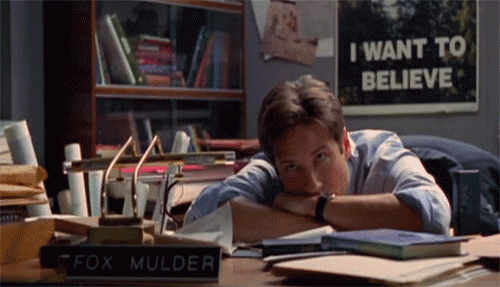 In my travels today — read: the Google alert I have set up for "UFO sighting" — I came across a report of an "alien spacecraft" spotted moving slowly around the International Space Station yesterday.
Love mysteries and unsolved weird stuff? Then you might like our podcast, All Aussie Mystery Hour. Listen below:
Glimpsed by UFO hunter Scott Waring (is that a real job? Because I want it please) on NASA's 24-hour live feed and promptly shared to his YouTube page, he reckons it was potentially a craft created in secret by the US Government which conspiracy theorists have named the "black triangle" or "TR-3B".
On his website, UFO Sightings Daily, (which I have 1000% bookmarked forever) Waring says:
The UFO seemed bright because of the reflecting light bouncing off of it and the station. The shape was hard to make out, but it does appear to be a curved triangle in shape and could very possibly be a USAF top secret TR3B, or an evolution of that craft.
And Waring — who is an expert, I might remind you — says that there are UFOs just whizzing willy-nilly around the ISS all the time, but the "space station people" have never once explained exactly what the hell is going on up there.
Many UFOs have been reported near the space station and never once have the space station people answered what they are, or why they're out there and what these glowing objects are flying around the space station.
Chuck a squiz at the video below and see what you think.
Look, I may be completely biased and desperate for it to be true, it seems really freaking suss to me.
Don't forget about Pedestrian's All Aussie Mystery Hour podcast. Subscribe on iTunes HERE, or on Spotify HERE. Or, you can just listen / download below.