While we love all of the Fab Five from Netflix's Queer Eye reboot, it's difficult to deny that 'food and wine expert' Antoni Porowski has a certain, shall we say, appeal.
Since Queer Eye debuted in February, the internet has surged through waves and waves of Porowski fever.
At first, we realised the kinda dorky Antoni had more than a passing resemblance to James Dean. Then astute eyes noticed he was reppin' The Strokes tees in almost every episode, save for the "Jude & Willem & JD & Malcolm" shirt, a reference to pop-sadist novel A Little Life.
These cool-yet-pedestrian references made Antoni approachable, a fellow indie-geek who no doubt also sings along to 'Last Nite' with the same vigour and passion you do.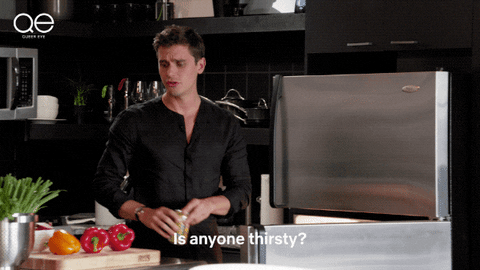 Then there came the whole 'can Antoni even cook?' debate, which we is a dark stage of the internet's recent history. We're not going there. It's forbidden.
Jumping forward to two weeks ago, Antoni posted that above #spon for Hanes underwear. It kind of shook the world: the Google searches for 'contrapposto' spiked as thirsty art history novices deciphered Antoni's reference to a classical post where the subject's weight shifts to one foot.
It's fun when everyone learns some new vocabulary pic.twitter.com/YPvk31h491

— Jackson McHenry (@McHenryJD) April 12, 2018
All this is to say that Antoni has a lot of fans out there in the world – something he talks about in his cover issue interview with UK mag Gay Times. The interview dives into his experiences with Queer Eye, and how the show's doing something rare: showing platonic relationships between gay men to a mass audience.
Antoni also discusses his own relationship to his sexuality – in an available excerpt online, he says that he rejects labels.
"I've always considered myself a little more fluid along the spectrum," he says. "So even being called bisexual… I remember in my early twenties I was like, 'But bisexual means I can only like girls and guys, what if I like something else?'. Maybe it's just my rebellious nature. I'm me, I'm Antoni, and I'm all these things."
Antoni has is in a long-term relationship with Joey Krietemeyer, art director of furniture/art outlet 1stdibs. For Porowski, he identifies as "gay" today, but leaves the future open.
"Some people want to define themselves, and they should as it's part of their identity. For me personally, I've never really had a label for myself. Today I'm gay, I'm in a gay relationship, and that's where I am. That's good enough for me."