The NSW State Government is offering 500,000 folks four $25 vouchers that they can spend on food and entertainment only on Fridays. Wow, Rebecca Black's impact.
Thank God it's Friday (yes, that is the actual program's name) is a new scheme by the NSW government in hopes of turbocharging the Sydney CBD economy after it's been hit hard by COVID.
In April, NSW saw just under 11,000 people arrive here for a short-term stay. It isn't all that shocking given the big panini but it's still a huuuge 96 percent drop from the pre-pandemic averages of around 234,000 per month.
Treasurer Dominic Perrottet said in a statement via the NSW Australian Liberal Party, TGIF is designed to "make Fridays fun again and ensure the Sydney CBD doesn't just survive but thrives."
"This will be a targeted program designed to get more people back into the heart of the greatest city on earth and on the way through spending a little extra on retail and services businesses.
"It's about making Friday's fantastic and fun and at the same time helping the Sydney CBD which has been hit hardest by COVID with a reduction in CBD workers and the absence of overseas visitors for more than a year."
'How do you do, fellow cool kids' energy aside, if this means I get to scoff my face with food and finally afford one of those boogie luxury dinners in the city, I ain't gonna complain.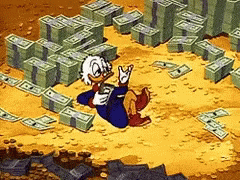 Minister for Digital and Minister for Customer Service Victor Dominello added that "The 'TGIF' voucher scheme will be a boon for businesses across the Sydney CBD.
"It will also be seamless for customers to access and use the vouchers, as there will be no need for them to re-prove their identity if they have already downloaded their Dine & Discover vouchers. Furthermore, there will no restriction on customers using multiple $25 vouchers for one meal or discover activity."
Also, unlike the Dine & Discover program, these four vouchers can be used for either food or "discover activities", meaning you won't be Googling around for another entertainment experience that's not another laser-tag joint within the postcode 2000.
"The Service NSW app is fast becoming the backbone of our state's digital service delivery. Mass adoption of the app enables us to switch on new digital programs, like the 'TGIF' vouchers, in a way that few Governments around the world are capable of doing.
"The program will be inclusive, with a non-digital option available to customers without a smartphone."
What You Need To Know About The NSW Government's 'TGIF' Vouchers
Much like the Dine & Discover program, Thank God it's Friday vouchers will be eligible to anyone in NSW over the age of 18 and over and accessed via Service NSW app.
The program will be offered to 500,000 people and those selected will only be entitled to one set of vouchers. If selected, you'll be able to use them individually or combined together for up to one $100 purchase.
Obviously, since it's meant to restart the Sydney CBD economy, the vouchers can only work for businesses within the postcode 2000, and they can't be used for alcohol, tobacco, or gambling.
And, just as the name suggests, the vouchers can only be redeemed on Fridays. Putting on my cheugy-est of cheugy hats when I say: "Friday? More like Friyay!"
Further details, including how you can register for the program, are said to be released soon.