We've seen toilets in the kitchen (twice, in fact!). Hell, we've even seen spa baths in the kitchen. Well here's something entirely different altogether: a bath in a closet.
A one-bedroom, kinda-one-bathroom apartment in Melbourne's South Yarra has been put up for sale, and its unique bath-closet combo is honestly lowkey terrifying.
It's like having your own sensory deprivation chamber at home, except it would likely only deprive 4/5 senses because that room looks musty as fuck.
It's one of those pictures you can smell, y'know? You just know it has the stench of old bathwater underneath that carpet.
Imagine stepping out of the bath (which is a feat in itself because it's walled on three sides) and stepping – dripping wet – directly onto your carpeted bedroom floor.
Here's how the ad describes the apartment: "Manicured gardens, extensive shared areas and rooftop terrace with sensational city views complement the grand sized bedroom, open plan living and dining space, curved bay windows, efficient kitchen and closet, powder and a shower-in-bath."
No mention of the fact that the bath is literally in a closet. Mustn't be notable enough to mention, hey.
This apartment really is a space where nothing makes sense. You literally have to walk from one side of your bedroom (the biggest room in the house!) to the other in order to make it from the bath to the sink.
It's not just the bath that's janky, either.
Check out the entire floorplan, which is curved walls galore. Then there's the full kitchen squeezed into what really is better described as a 'nook'.
The apartment may seem like some kind of Alice in Wonderland shit, but it's actually the work of iconoclastic Aussie architect Howard Lawson.
Lawson has designed and developed some pretty interesting apartment blocks around Melbourne, but he must've been having a laugh when he envisioned this.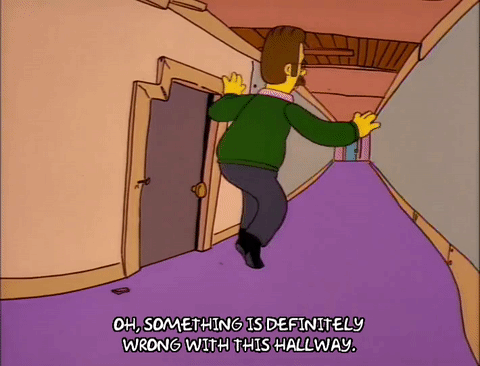 All this could be yours for $390,000 to $410,000, according to the price guide. If you have the means, and the penchant for whatever the opposite of sacred geometry is, then go ahead and check out the ad for yourself here.