An unlikely supporter of marriage equality in Australia comes in the form of a dude that kept us 90s kids environmentally conscious – Captain Planet.
A post on the fictional character's Facebook last night urges Aussies that can put forward a 'yes' vote in the potential upcoming postal vote, to do so.
It seems like we've finally been given the reasoning behind that ridiculous Heart kid that has perplexed Captain Planet fans for literal years.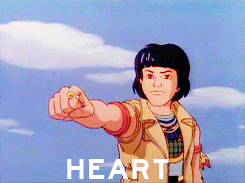 WHAT IS YR PURPOSE?
The post has gotten people talking, mostly asking "what business do you have injecting your green-haired, blue-skinned self into this narrative?" to which the social media wizards Captain himself has let everyone know that taking care of each other is just as important as taking care of the environment.
AWWW.
Yeah ok I can get on board with a dated enviro superhero telling me that I gotta take care of my fellow human. I'm into it.
If it's gotten a point where a character from a now-canned animated TV show from 20 years ago has to tell you to do the right thing for your fellow human then, well, I guess you better.
Don't forget you've only got a short amount of time to register to vote for the probable postal vote, so no matter which way you're voting, make sure those ballot papers are showing up to the right place.
Can all political decisions be made by 90s cartoon characters? The Senate sure would be a lot more entertaining if Crumm from Aaahh!! Real Monsters was sitting in the benches, you know it's true.