After what felt like the ultimate break up of the century (sorry Brad & Angelina, Anna & Chris, and etc.) we've all been utterly heartbroken over the knowledge that Drake Bell and Josh Peck are not on speaking terms. Drake made that very clear when he revealed that Josh hadn't invited him to his wedding recently. Nope. Do not subscribe.
It was painful to see the two brothers from the Very Good Show, Drake & Josh suddenly going through a very public, messy parting. I know, I was hurting too.
But it seems that this spat was nothing more than classic sibling rivalry, where they just need some time apart in their respective bunk beds, to process the severity of the sitch and eventually realise just how stubborn they were both being.
That's right folks, Drake and Josh met up at the MTV VMAs and hugged it out.
Hug me……. pic.twitter.com/Jww39LtOA2

— Josh Peck (@ItsJoshPeck) August 28, 2017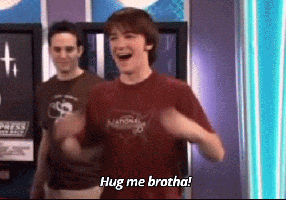 I'm not crying, you're crying. YOU ARE.
The pair posted this photo on their Instagram and Twitter accounts, so you know it's legit.
Reunited and it feels so good!! @ItsJoshPeck pic.twitter.com/bNYTbPX5y9

— Drake Bell (@DrakeBell) August 28, 2017
Tbh I'm quietly hoping this reunion of the two best fictional step-brothers to grace TVs in the mid-00's will result in one thing and one thing only – a Drake & Josh reboot.
Because heaven knows I need more post-puberty Drake and Josh more than just this cheeky little Drake cameo in Josh's current show, 'Grandfathered'.
Image: Getty Images / Albert L. Ortega