What's poppin' team.
In case you lived under a rock, Cardi and Migos hubby Offset welcomed their lil bub, Kulture Kiari Cephus, into the world early last month.
Now, our new fav mum Cardi B has obviously never held back from speaking her mind on the World Wide Web, and her feelings towards motherhood are no exception.
Having pulled out of Bruno Mars' tour last month to focus on her new bub, Bardi recently took to Instagram to open up about her ongoing experiences with Postpartum depression.
"This is how postpartum got me," she captioned yesterday's Insta post, featuring a young guy talking to himself in the mirror. "The emotional struggle. BARDI vs BELCALIS"
Last week, when our girl went on Insta live to talk about her decision to pull out of the tour, she also talked about her initial thoughts on motherhood in refreshing, true-Bardi style.
"This postpartum shit is really real, y'all. Mums always give advice, like, 'Oh, when you have a baby, things change. You will see it's not easy,' and it's true. No matter how many books you read you just really have to have a baby to see."
Bardi's confessions come at a welcome time, as tennis world's GOAT Serena Williams also recently opened up about her experiences after giving birth to daughter Alexis Olympia in September last year. "Not only was I accepting some tough personal stuff," Williams wrote in her own Insta post, "but I just was in a funk. Mostly, I felt like I was not a good mom."
With many women suffering in silence as they deal with intense hormonal changes after giving birth, or even serious illnesses such as postpartum depression, high-profile celebs sharing their own struggles is an important step forward in giving a voice to this much-needed conversation.
Well, Cardi, whether you're feeling BARDI or BELCALIS, we love and salute thee either way. Both are just as fab.
Kulture is one lucky gal. Narmsayin'.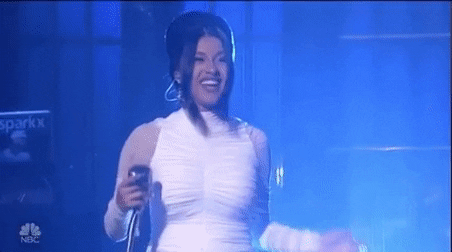 Image: Getty Images / Ilya S. Savenok