THE WORLD IS TURMOIL. SOCIETY IS ON THE VERGE OF COLLAPSE. CLIMATE CHANGE THREATENS TO RAVAGE THE GLOBE AND FORCE HUMANITY INTO AN ENDLESS DARK AGE. BUT NONE OF THAT MATTERS RIGHT NOW, BECAUSE THEY'VE REDISCOVERED THE WORLD'S BIGGEST BEE. THAT'S RIGHT, FOLKS, THEY'VE FOUND A BIG BEE.
THE THUMB-SIZED MONSTROSITY, TECHNICALLY CALLED WALLACE'S GIANT BEE BUT DUBBED THE 'FLYING BULLDOG' , WAS LAST PHOTOGRAPHED IN 1981. WILL YOU JUST LOOK AT THIS THING, FOR JUST ONE MOMENT?
WORLD'S LARGEST BEE: Take a look at Wallace's Giant Bee!
It's the biggest bee in the world and hasn't been seen in over 30 years … until now. pic.twitter.com/KB1MjDBCdh

— CBSDenver (@CBSDenver) February 21, 2019
THE BEES ARE ON THE NORTH MOLUCCAS ISLAND OF INDONESIA, WHERE THEY LIVE SOLITARY LIVES IN HOLES DUG INTO TERMITE NESTS. THEY ALSO HAVE HUGE STINGS – BUT THAT'S OKAY, BECAUSE THEY ARE ON A SMALL INDONESIAN ISLAND AND NOT, SAY, IN YOUR HOUSE.
THE (ENORMOUS) BEE WAS FOUND BY RESEARCHERS FROM MULTIPLE UNIVERSITIES, WHO TREKKED FOR DAYS ACROSS THE SMALL ISLAND IN THE HOPE OF SEEING ONE. AFTER FIVE DAYS OF INSPECTING TERMITE MOUNDS THEY FOUND WHAT THEY WERE LOOKING FOR: THE AFOREMENTIONED GIANT BEE.
HERE'S A PIC OF A PREVIOUSLY PRESERVED SPECIMEN OF THE BEE. OBVIOUSLY THE GUY HERE IS KIND OF COOKING IT BY HOLDING IT RIGHT UP TO THE CAMERA BUT YOU NEED TO BELIEVE ME WHEN I SAY IT IS ROUGHLY THE SIZE OF A HUMAN THUMB.
BIG. ASS. BEE.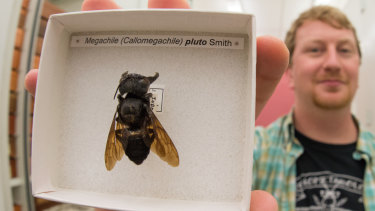 THE (VERY LARGE) BEE EATS NECTAR AND POLLEN, BUT DOES NOT PRODUCE HONEY. WHICH IS FINE BECAUSE I THINK ANY HONEY PRODUCED BY SUCH A LARGE AND EVIL-LOOKING BEE WOULD BE POISON TO US.
THE TEAM WILL NOW WORK WITH CONSERVATION AUTHORITIES AND THE INDONESIAN GOVERNMENT FOR A PLAN TO PROTECT THE OVERSIZED BEE, WHICH IS CURRENTLY THREATENED BY THE PALM OIL INDUSTRY.
ALLOW ME TO REITERATE ONCE MORE: HUGE BEE.