We don't normally bring you political news from waaaaay across the pond, but this one is simply too tasty not to.
A vice-chairman of the Conservative party in the United Kingdom has been compelled to make a "substantial" donation to charity after he made a defamatory tweet about left-wing Labour leader Jeremy Corbyn. According to The Guardian, it's believed the donation is a five-figure sum, making this a very expensive tweet.
Mansfield MP Ben Bradley made the claim in the now-deleted tweet that Corbyn "sold British secrets to communist spies" during the cold war. Other conservatives in the UK made similar claims, based on suggestions that Corbyn met with a Czech intelligence agent named Ján Sarkocy back in the 80s. Most of these claims have now been discredited.
The reason this story is so funny isn't necessarily the tweet or the payment itself. It's Bradley's apologetic tweet:
On the 19th of February I made a defamatory statement about @jeremycorbyn. I have apologised to Mr Corbyn and here is the complete text of my apology. Please retweet. pic.twitter.com/6JZc8O9E82

— Cllr Ben Bradley MP (@BBradley_Mans) February 24, 2018
Despite the fact Bradley tweeted this at 10:30pm on a Saturday night – a wonderful time to blast out a tweet you hope zero people will read – it got a fair bit of airplay regardless. At the time of publishing, the tweet has been retweeted 42,000 times and favourited nearly 20,000 times. By any standard, those are big Twitter numbers.
Only this GIF is a suitable response to that: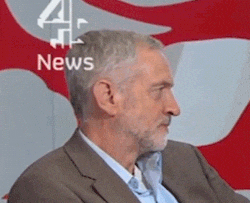 In specific, Bradley will donate the money to a charity and a food bank in his constituency, and will be forced to pay Corbyn's legal costs.
It's not known whether the other Tory MPs who made similar claims about Corbyn will also apologise and make similar donations. But it'd sure be funny if they had to.