Australia, I am angry. We're all going through it this lockdown. It's a shitty time across the board, with a lot of mental anguish that goes along with it. What we as a society don't need right now is large corporations making our lives any harder than they have to be… and that is exactly what Australia Post is doing.
Who among us has been mystified to receive the classic 'Sorry We Missed You' card from Australia Post, despite the fact that we are literally not leaving our homes because we're in the middle of a lockdown? We spend all day at home with nothing to do but await the delivery of our parcels. 
I – for one – am pissed off. More than pissed off. I am furious. In my mind, Australia Post seems to be doing a half-arsed job of delivering our parcels when we're literally at home all day to receive them.
As a Sydney resident, I'm trying to do the right thing here. I'm trying to limit my trips outside unless they're for essential reasons. I wear a mask when I go out – even to exercise – because I have an obligation as a citizen to help to minimise the spread of COVID-19. I am also one of the fortunate people who has not been out of work during this time. So, I'm doing my best to try and support Australian businesses and shop online wherever I am able to, so that I can continue to support them during this shitty time. 
But over the past several weeks, I have had FOUR separate missed delivery notices arrive to my address from Australia Post without being delivered, despite the fact that I'm specifically not leaving my house so I can accept them.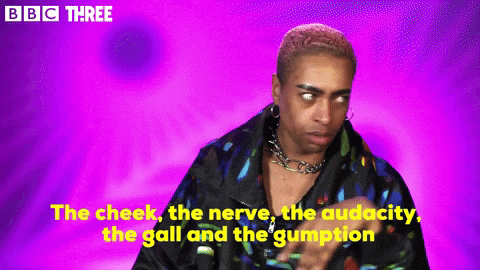 On my last visit to the local post office, I was shocked upon my arrival to find a queue of at least 50 people stretching out of the door and out onto the street – all waiting, like me, to collect their "missed" deliveries.
After giving it some thought, I was sure I could not be the only person living with such completely avoidable rage and frustration. I decided to share my grievances with my Instagram followers to see who else has been personally victimised by Australia Post, and conduct an informal (but highly scientific) research project to find out just how widespread this issue is.
A whopping 83 per cent of respondents voted that they too have experienced this insult on a regular basis, and many more sent messages to recount their own regular experiences of disappointment with Australia Post.
This may seem like a trivial thing, but ohhhh boy let me tell you why this is reckless and irresponsible behaviour.
Over the course of the most recent outbreak, several Australia Post offices have been listed as "close contact" sites by NSW Health, requiring anyone who visited these locations to isolate for a full 14 days,
In the midst of what might be Australia's most serious outbreak of COVID-19 in the community to date, should we consider it irresponsible for Australia Post to require us to leave our homes and collect our own mail which should have been delivered without issue in the first place? What about the elderly, or those with underlying health conditions, who are particularly at risk every time they have to leave their homes, who may be relying on these delivery services as they isolate from the community for their own safety?
I do want to take a moment to acknowledge that Australia Posts employees are, like many people, working through the pandemic and risking their own health as our essential workers. What we are seeing here is a system stretched to its limits – and something needs to be done to protect the safety of Australia Post's employees and the society at large so we can all stay safe, positive, and do what we can to end this lockdown.
But seriously, please just deliver my mail when I'm at home to receive it, okay?
Jake Halpin (he/him) is a communications and marketing consultant, freelance writer and unnatural blonde based in Sydney. If you like horoscope memes, salacious gossip and the occasional heavily-filtered selfie, you can find Jake on Instagram @jakehalp.
Image: PEDESTRIAN.TV