The late '90s was an incredible time for music, and no song exemplifies the frosted eyeshadow / satin pyjamas / vocal gymnastics aesthetic of the era like  'The Boy Is Mine', by Brandy and Monica. The duet was a massive hit in 1998, and if you never tore the dance floor up at a blue light disco to it in your youth then I'm sorry to say that you've really missed out.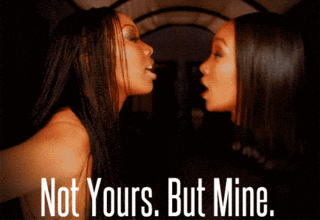 bonus points if you did these moves with your best mate
Luckily the musically-inclined comedic influence that is James Corden has decided that it's about time we brought the hit back – with a little help from his mates Jeffrey Tambor and John Boyega.
It's an almost shot-for-shot remake of the clip and the song actually sounds really fucken good – I am 100% buying what Tambor is selling – and who wouldn't want to claim the Boyega as theirs?
Watch it and try to tell me you're not fanging for some highly flammable sleepwear right now.
Next karaoke song? Sorted. Halloween outfits? Sorted. Earworm for the next week and a half? Sorted, and sorry 'bout it.