PEDESTRIAN.TV has partnered with Jack Daniel's to bring you good times and great music. Play it loud, enjoy responsibly.
What's one thing better than catching up with your mates at a cool bar in town? When said cool bar reveals that it just so happens to have sick live music playing on the same night.
Whether you're all about supporting local acts or simply want to expand your music repertoire, live music is a fab way to jazz up your regular bar hangs.
Here we've teamed up with the muso lovin' folks over at Jack Daniel's to bring you the low-down on the Sydney venues to add to your list if you want dranks and a show.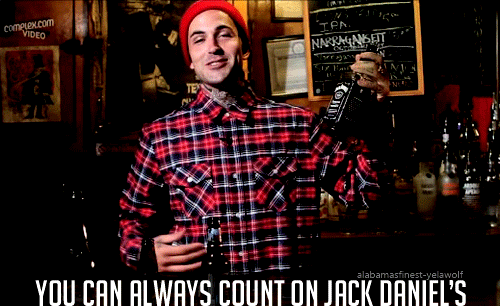 While Sydney's lockout laws may be strict, you can still get your live music fix at these sick joints:
1. LazyBones
If you haven't heard of LazyBones before, you're gonna want to add it to your bar hit-list, stat. Nestled in Sydney's Inner West, this drinking hole will instantly take you back to those epic house parties of yore, complete with moody lounge room vibes. The only difference is that those dodgy smartphone playlists are swapped out for fre$h live music acts, seven nights a week.
2. Ramblin' Rascal
Ramblin' Rascal is one of Sydney's best-kept live music secrets. Hidden underground, the rough-around-the-edges tavern marries stiff cocktails with greasy Mary's burgers – which is a total vibe tbh. Plus, if you're looking for somewhere different to have Thursday after-work drinks, grab your mates and hit up this speak-easy joint with music acts starting from 8pm.
3. Daniel San
Manly might not seem like the place to hit up if you're looking for live music, but that's where you're wrong. Daniel San describes itself as a "beachside chow down bar" with a penchant for sick toonz and yes, it delivers on the goods. If you're around on a Sunday, stuff your face with scrummy Japanese snacks, including a raw bar and robata grill, before hitting up their Dojo Sunday sessions featuring first-class live local DJ sets.
4. The Lansdowne Hotel
The Lansdowne Hotel will always hold a soft spot in our hearts as a Sydney Indie icon. If you're all about those 90s grunge vibes, you're gonna bloody froth this place, with craft beers on tap and a Detroit-style pizza menu to boot. Plus, the establishment prides itself on an action-packed lineup each week, ranging from local band performances to nostalgic-themed trivia nights. Basically, this glorious hangout has got you covered as a zesty date spot and Saturday night destination.
5. Kid Kyoto
What if we told you that there was a restaurant in the heart of Sydney's CBD with a menu inspired by Radiohead, Nirvana and Beck? You'd (probably) be like 'wait, what?' Well, it's true mates. Situated on the trendy Bridge Lane, Kid Kyoto serves up edgy Japanese dishes inspired by the best punk bands of our time and, if you're lucky, the occasional live act.
6. Marrickville Bowlo
Whilst it might look like your regular bowlo from the outside, Marrickville Bowlo is actually a pretty happening nightlife spot. Start the night sippin' on a few cold ones while playing chill sunset bowls with your mates before heading inside to watch live music gigs on Fridays, Saturdays and Sundays. Plus, if you're around for a boogie on Fridays, you can also go into the draw to win the luxe meat raffle.
7. The Steyne
If you love live music but don't want to give up on those rooftop bar vibes, Henry's Rooftop at Manly's Hotel Steyne sounds like your cuppa tea. Every Thursday, Friday and Sunday night there's a range of trending acts performing, all of which deserve to be added to your radar. As it's only being a stone's throw away from the surf, this haunt makes the perfect post-beach hangout.
So there you have it, a load of top-notch establishments where you can kick back, have a drink and enjoy some blissful sounds.
Image: Instagram / [@danielsanmanly]