After what feels like a lifetime of tour teasing, the Spice Girls have FINALLY announced that they are defo reuniting for a bunch of UK tour dates as a four-piece, minus Posh.
[jwplayer t3015h2z]
I'm sure that, like me, you've basically tuned out the daily 'Spice Girls Are Reuniting!' headline 'coz they've been fucking us around for years (here's looking at you, Scary), but this time it's actually legit. There's a photoshoot and an announcement vid and everything.
Let's start by analysing their first official reunion photo:
The girls have rolled with their old school trend of each rocking a different colour which is an absolute aesthetic delight (their individual tour bus colours in the Spice World movie were a treat and a half for the eyes).
Three of the gals are rocking the power stance while Baby Spice holds up the iconic peace sign which was their staple way back when.
WE'RE GOING ON TOUR!!
We're incredibly excited to announce the Spice World tour. Tickets go on sale this Saturday at 10.30am ✌🏻🌍 #SpiceWorld2019 pic.twitter.com/2UEmJTPXzq

— Spice Girls (@spicegirls) November 5, 2018
And now for the video.
Our four ladies rock up for a morning show announcement and three of them are horrified to see that Ginger Spice hasn't met the brief of "black tuxedo" and is instead wearing a sparkly number (classic Ginger, amirite?).
Geri and Mel B battle it out like old times while Sporty changes out of her suit and into her fave Adidas number. Meanwhile Baby tries to ease the tension by singing which works like a charm as her comrades join in on the opening "La La La" of one of their most beloved bangers, 'Spice Up Your Life'.
Breaking Spice news… Tickets on sale Saturday 10.30am ✌🏻#GirlPower #FriendshipNeverEnds pic.twitter.com/QmWrXOWLMd

— Spice Girls (@spicegirls) November 5, 2018
It has been heavily rumoured that the reason behind the tour delay was because the girls had been trying to convince Victoria Beckham to parade her posh self on tour with them but she's either too busy with her fashion empire or is too embarrassed to take the stage again after previously admitting that "they used to turn my mic off".
After many attempts to convince her to don the little black dress once again (including a very pointed Halloween costume worn by Mel B last week), they've decided to go ahead as a four-piece.
Heck, they've done it once before!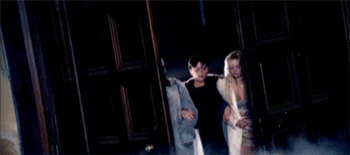 'Goodbye', 'Holler' & 'Let Love Lead The Way' are bangers imo
But rest assured, OG stans, as there's no bad blood here and Posh even took to Insta to wish her former bandmates the best of luck with the tour.
"Today marks a special day for the girls as they announce the first tour dates since we performed together in 2012!" She wrote.
"I won't be joining my girls on stage again but being in the Spice Girls was a hugely important part of my life and I wish them so much love and fun as they go back on tour next year. I know they will put on an amazing show and the fantastic fans past and present are going to have a wonderful time! X vb"
And while I can't help but feel absolutely shattered that they're not coming to Australia (as per tradition for Spice Girls tours throughout history, unfortunately) I'm so bloody pumped to check out the footage from the UK as the girls rock Wembley once again.
On that note, I leave you with a vid from when the girls last took Wembley as a quartet: