Two of the most important Australian pop albums belong to the same duo: Savage Garden. And just to make you feel delightfully aged like a fine wine or a mouldy apple underneath the couch, their second album, Affirmation, is turning 20 this year.
What better time than right now to revisit it – unless you're like me and literally listen to these albums at least once every couple of months.
With a debut self-titled record as powerful as Savage Garden's, featuring essentials like 'To The Moon And Back' 'Truly Madly Deeply' and 'I Want You' on the track list (seriously wtf), it was almost impossible for the duo – Darren Hayes and Daniel Jones – to back it up and release something that could even hold a torch to it. A real fear of becoming a one-album wonder, understandably.
But that rolling tom drum fill of 'The Animal Song' when it was released in the early months of 1999 had promise. Like the undying Jumanji beat of the Australian radio airwaves, you could identify the song within a split second.
It was an instant hit, even if we were maybe singing "superstars and cannibals" for a good while before finding out the actual lyrics.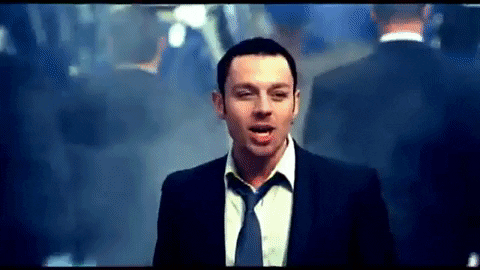 The next time we'd be blessed with new music from the Savage Garden camp was the slower ballad of 'I Knew I Loved You' in September, a couple of months shy of the whole album dropping.
The video clip totally had 90s teen dream Kirsten Dunst as Darren Hayes' love interest on the NYC subway; a perfect time capsule of the late 90s in a three minute, 50 second film.
Simply iconic, and a fictional love story only to be later ripped from beneath us when Hayes publicly came out as gay – and him later saying that he wrote a lot of the album about other men.
Maybe the underlying story of the video was that Hayes and Dunst would go on forge an incredible friendship where she was his beard for events until he was comfortable to openly come out?
Once the album landed, we got to experience the one track that, if you listen to it right now in 2019 it would still have traction and relevance: 'Affirmation'.
Hell, what a song.
With every line of the song beginning with "I believe…", it's like we collectively stopped to think about what WE believe in, and how we can carry that into our day-to-day lives.
Sure I was absolutely eight-year-old when this song came out originally, but there's something really sweet in a young lass from an isolated coastal town scream-singing about how you can't choose your sexuality only to finally realise that her mum is openly queer a couple of years later.
I can barely imagine what this song would look like in 2019, but perhaps they would have just tacked on another verse about the refugee crisis, climate change, transphobia, far-right extremists, and the fact that the US president is a bloody businessman and TV celebrity? Darren Hayes, do a god damned reboot of this song immediately, please.
Oh, and it gifted us this phenomenally late-90s live music video featuring Darren in a full mesh shirt.
Though Affirmation as a whole doesn't hold as many banger singles as its predecessor (come on, 'Break Me, Shake Me' is as powerful as a cinder block to the head) it did give us a video for 'Crash & Burn' that featured a sign language chorus at the end. We stan accessible music!
Now as much as I'm having a great time here thinking about how I used to pull my parents Savage Garden albums out of the CD rack and play them on loop as a wee tacker, and how I've vocally wished that they'd reform and headline Splendour In The Grass, this isn't a demand for Darren and Daniel to reconcile after that damn heartbreaking split in '01.
Sometimes it's simply best to leave the past where it belongs, and look back fondly from time to time (at least bi-monthly), and reminisce on arguably one of Australia's best pop exports.
Image: Getty Images / Brian Rasic