We all had an emo phase in some form or another. And if you say you didn't then you're downright lying to yourself. Maybe you didn't hack at your own hair and dye it black and wear nothing but black jeans and band shirts year-round, but I'll be damned if you didn't at least sing along to one (1) My Chemical Romance song at one point in your life.
I've been in an ~emo phase~ for 15 years. I still straighten my hair every week and I still pour myself into skinny jeans. My band shirt drawer might have adopted a bit more colour in the last few years, but it's still buckling under the weight of all the merch. I have a glaringly huge Alexisonfire tattoo on my arm. I'm still terrible at sewing patches onto my denim jacket. Also I looked like this at the age of 15:
https://twitter.com/courtwhip/status/854989878576021504
Anyway, I've got it on pretty good authority that the lyrics to classic emo songs (from all sub-genres under that depressing black umbrella) are pretty fucking iconic. Those lines that you scream out at a party at 2am, or sing at the top of your lungs while you're driving alone down the freeway. The ones that you had (or have) on loop after your heart's been broken, or you got tattooed on your skin as soon as you legally could, or the lyrics that you'll absolutely always remember – even if you haven't listened to the song in over ten years.
Let's go on a trip down the rabbit's hole, grab your fishnet armbands and your Converse and chuck on this playlist.
sing me something soft/sad and delicate/or loud and out of key/sing me anything
When the song's called 'Existentialism On Prom Night' you know it's going to be emotional as fuck. Ain't nothing that brooding types of the early 00's love more than philosophy, contemplating the meaning of existence, and sweet love at a high school dance.
Straylight Run are veterans of the emotional hardcore/rock community, formed when John Nolan of Taking Back Sunday (more on them later) had songs that he felt didn't really fit TBS' harder, punchier sound and thus the piano-driven heartstring-tugging love song of their 2004 self-titled debut album was born.
Notable mention to 'Hands In The Sky (Big Shot)' purely for angsty teen moments.
vindicated/i am selfish/i am wrong/i am right/i swear i'm right/swear i knew it all along
And I am FLAAAAAAWED!!! 'Vindicated' from Dashboard Confessional and genuine king of emo Chris Carrabba is a total classic and one of the biggest singalong tunes from the early 00's. Was it because everyone learned the lyrics from watching Spider-Man 2 a shitload? Maybe.
Chris started Dashboard Confessional as a side project from his other, potentially even MORE emo band, Further Seems Forever, and released the first Dashboard album in 2000. Chris left Further Seems Forever to pursue Dashboard, taking a couple of band members with him. Dashboard STILL exists to this day, almost 20 years later, and put out their latest EP this year.
Also a big nod to their other iconic hits 'Hands Down', 'So Long, So Long', 'Screaming Infidelities', 'Saints And Sailors', and 'Again I Go Unnoticed' ah Christ, they're such a GOOD BAND.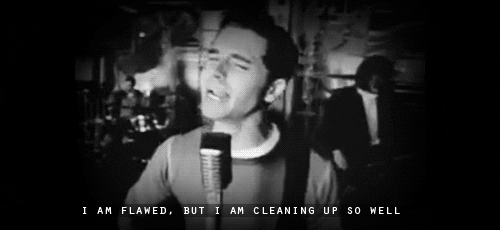 taking on seven years/that holy ghost had left alone
Like the god damned purist that I am, Saosin was fantastic before Anthony Green left to form Circa Survive. And although they adopted Cove Reber – who sounded more like Anthony than Anthony did – their iconic hit 'Seven Years' is always best coming out of the strained vocal cords of Green.
In saying this, Voices is one of the best emo/post-hardcore albums ever made and I will fight you if you disagree.
truth is you could slit my throat/and with my one last gasping breath/i'd apologise for bleeding on your shirt
Taking Back Sunday's debut album Tell All Your Friends had 'Cute Without The E (Cut From The Team)', a verified banger that was screamed out at every sweaty emo club night, released in the absolute thick of the notorious Taking Back Sunday/Brand New rivalry between John Nolan and Brand New's (now kinda really disgraced) frontman, Jesse Lacey.
Also on the album was 'There's No 'I' In Team' – a direct response to Brand New's 'Seventy Times Seven', adding fuel to the fire between the bands. If you know, then you know.
Oh and you haven't seen anything until you've seen singer Adam Lazzara minpulate a microphone around his body/neck by its lead.
can we pretend/to leave and then/we'll meet again/when both our cars collide
'Helena' from emo/horror emo/theatrical emo lords My Chemical Romance is one of the bigger hits from the wave of emo that was really popular when we were all discovering that there were other things out there than what was on the radio.
Their elaborate, macabre, and painfully emotional lyrics wailed through bedrooms as the concept of death and decay elaborately cloaked in a palette of black, red, white, and more black slowly seeped into our own clothing. I know I definitely did some very Gerard Way/Frank Iero makeup as an early teen.
Obviously the song that really made it through into mainstream consciousness was their 'yuge hit 'Welcome To The Black Parade' from the band's third album of the same name (ugh, how dare the normies take our sacred texts).
Also their first album is life-changing and probably the best one of the lot. Sue me.
let's just forget everything said/and everything we did/best friends and better halves
Admittedly, I slept hard on American Football, despite the pioneers of emo-math-rock released one of the most beautiful albums in 1999.
Noodly guitars and lamenting over trying to make a broken relationship work, 'Never Meant' ended up smacking me hard in the head in my twenties, and now the song and the self-titled album sits among my faves.
Might not be one you'd put on to amp yourself up for a night out but my God is it a cracker of a record for when you want to lie on your bed and not talk to anyone – the natural state of an emo-driven human.
we are broken/what can we do to restore/our innocence/and oh, the promise we adored
Look, every song on Paramore's second album Riot! is iconic, but the most emotional of those is 'We Are Broken', an anthem for the generation of adolescents in the 2000's (us) that were seeing a lot of the world shift and change from what they grew in during the 90's. A lot of unrest and conflict, which made us pretty apathetic and wary about the world around them.
It's a shitty thing but Paramore was one of the only bands that both dominated the emo/pop-punk scene and also had a female vocalist, but they paved the way for many other women to come in and take up space in a very male-dominated scene.
i'll be your number one with a bullet/a loaded God complex/cock it and pull it
I'd be doing a disservice to emo darlings everywhere if I didn't include something off Fall Out Boy's seminal album From Under The Cork Tree.
An album that served as the soundtrack to many of us who were trying to figure themselves out in the mid-00's, the deeply descriptive lyrics from the incredibly wild brains of Patrick Stump and Pete Wentz provided a space where we could feel a little bit ~intellectual~ while also moshing around in our bedrooms.
Granted, if you look at 'Sugar, We're Goin' Down' and the rest of the sophomore album with a critical eye, it's kinda obvious that it's about a breakup (allegedly one between Wentz and a very young woman) and can kinda leave a bit of a bad taste in your mouth.
Our formative years are being closely scrutinised and shit blokes are coming out of the woodwork, so it's not surprising that some of these angsty (mostly young men) were also prone to questionable behaviour.
There's a whole conversation I could have about this band, but hey let's do that over a beer sometime.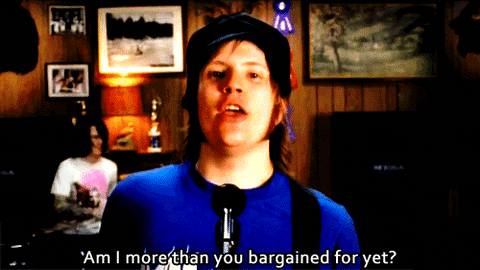 so this is continuous happiness/i always imagined it something more
I'm happy to admit that Alexisonfire lean more into the screamo and post-hardcore corner of the giant marquee that is emo, but I'll be fucked if I'm not including them into this considering one of the big folk-punk/indie darlings Dallas Green came from this Canadian outfit (but you'd know him better as City And Colour).
'Happiness By The Kilowatt' slaps so hard that it makes me burst out in goosebumps every time I hear the opening riff. You just try and deny how bloody good the drum fill is before Dallas comes in with his silky vocals. Hell, it's so good that Dallas covered it acoustically, changing the whole vibe of the thing and making it EVEN BETTER.
i chime in/haven't you people ever heard of closing the god damned door?
This whole damned thing would be all for naught if I didn't include the theatrically-excellent Panic! At The Disco (who still had the exclamation mark in their early days). The massive hit 'I Write Sins Not Tragedies' had the band lodging themselves firmly in our brains as the perfect pop-punk-emo earworm that will 100% still fill a dance floor if you chucked it on this year.
On the Fueled By Ramen label, Panic were the kind of band that wanted you to get extremely sweaty in a moshpit but also do drama and theatrical studies at school.
A Fever You Can't Sweat Out is still to this day one of the greatest albums from the mid-00's, and if you don't agree with me then you're fucking wrong.
(And then they went all Sgt. Peppers and made that off-the-wall folksy album that we all kinda really liked.)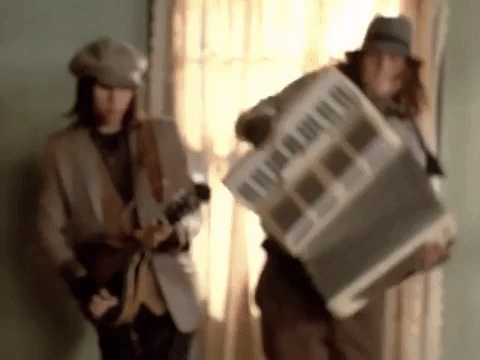 By the way, someone's quietly keeping tabs on what Ryan Ross has been up to since controversially leaving P!ATD all those years ago and I LOVE IT.
so cut my wrists and black my eyes/so i may fall asleep tonight/or die
In what is possibly the most quintessential my-heart-bleeds-for-you emo song, Hawthorne Heights went hard on the glamourisation of self-harm/violence/death in their massive singalong hit 'Ohio Is For Lovers'. A song that is about leaving their partners while the band goes on tour, it wails of longing for the safety and warmth of home and was dubbed as the emo anthem of the decade. Not surprising.
Obviously this isn't a full list because Christ I don't have all day. I didn't even include classics from Thursday, AFI, The Used, Death Cab For Cutie, From First To Last, Head Automatica, Yellowcard or Motion City Soundtrack.
If you think there's a glaring omission, chuck it in the comments and/or email me at editor@pedestriangroup.com.au.
Now if you'll excuse me, I need to go and listen to all of these albums again and paint my nails black.