Buoyant guitar hooks and euphoric pop melodies are a perfectly fine reason to like Sydney outfit Guineafowl, but the diary of their recent US tour is that charming that we genuinely like them as people too. From West Coast chillin' to New York City livin' without further adieu: the Guineafowl US Tour Diary…
WEEK 1: Sam Yeldham:
If there is one thing Los Angeles is not known for, it's heavy thunderstorms. Locals say it hardly ever rains and when it does, people don't know how to deal with the wet and tend to go a little insane. You can therefore understand the chaos we experienced when we arrived at LAX airport at 7am and at it was coming down like Lindsay Lohan at her court appointed community service.
Add to the weather the fact that we had to drive on the wrong side of highways that would confuse MC Escher and you have our first few hours in America. Luckily, this out of character storm only lasted our first day and our second day was nothing but sun.
Our first show was on our third day In L.A at a venue called 'The Echo' in the East LA suburb of Silver Lake (which I kept calling Silver Water confusing it with the Prison in NSW). Silver Lake used to be a pretty dangerous part of town but over the past ten years has become slightly gentrified and now is very hip. (Do kids still use that word? 'Hip'?)
Echo Park, East LA:

The first show we played was one of our best. I guess we were just so excited to be there we went a bit crazy on stage and managed to stir the crowd up in the process. The first show did however yield a few mishaps – primarily, we forgot the power cord to our Nord keyboard, which without getting into the voltage differences between Australia and America would have been impossible to get on short notice.
Luckily Liam Finn was playing after us at our first show and by chance had the cord we needed. New Zealanders: always there when you need one.
We weren't the only Australians in town for Culture Collide. Friends Cameras were also playing, as were Sparkadia. One of the highlights for me was seeing Sparkadia play a brilliant set in a much more intimate setting than they would play in back home. I got to chat to Alex Burnett, a fair amount after the show. He was off to a mansion in Malibu the next day to hang out….as you do.
Sparkadia

Other than shows we did what any regular band would do in America, hang out in dive bars, look through countless vintage stores for cheap clothes, cheap instruments, and of course, TRY ON COWBOY HATS!!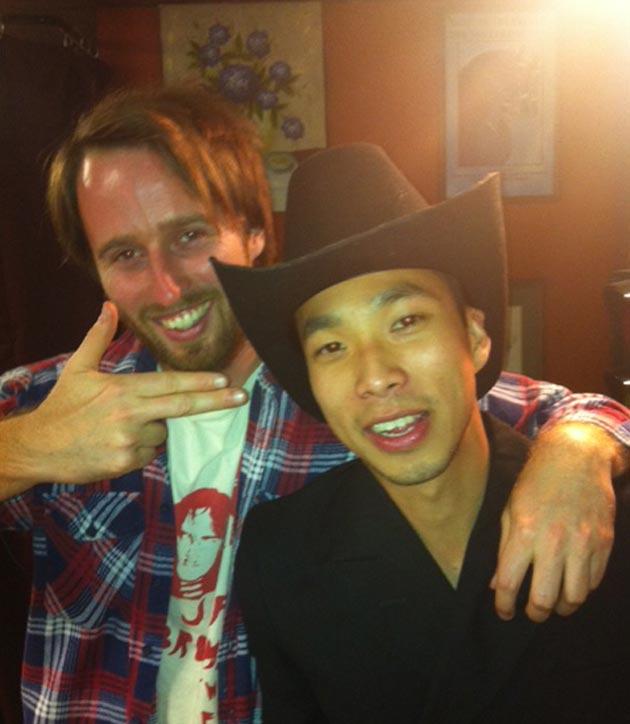 WEEK 2: Imi Harper
Even though we were starting to explore more of LA, the ongoing war against NavMan was still raging. We just didn't speak the same language. He did take us on to some lovely highways though – in peak hour.
One day, we ventured to Venice Beach, and though the temptation for some of us to obtain a medical Marijuana license for a mere $30 was great, we decided on keeping our band reputation for saintly behavior and innocent virtues untainted.
Saints visit the famous Malibu Beach:

Our gig at Bardot was super fun and slightly wild due to our delicate constitutions not quite handling the size of free shots. We played that night to a fantastic crowd, one guy even heckled that they wanted Sam's babies. Really! Really? I guess he'd make a good mum.
We spent one day walking up Runyon Canyon which was fun, but also a good indication of how unfit 4/5th's of the band is. Yes, the drummer always wins the fit category.
Runyon Canyon:

I guess we did other things involving daylight, like spending some time in Malibu, Laguna Beach and drinking great coffee at Intelligencia in Silverlake. Overall, LA was great and performing to such receptive and fun crowds made the first half of our little trip truly exciting. We will definitely be back, with stronger constitutions and cooler sneakers.
California's In and Out Burger – Graceland for carnivores:

WEEK 3 (NYC) – Yarran Hominh
We landed in New York City from the red-eye flight from LA at 6am, sleep deprived but excited to play our first show at CMJ. Unfortunately, we hadn't counted on JFK airport being completely devoid of taxis at 6am. Still, we managed to order a car large enough to fit five tired Guineafowls and one tired manager plus luggage and gear and drove to our place in Fort Greene.
Monday was a day off, and we woke at a late hour after drinking the night away with the John Steel Singers to sample the local bagels followed by a stroll through Williamsburg, sans Sam, who stayed in Manhattan and went guitar shopping.
Tuesday followed quickly with a trip to the West Side Highline to have our photos taken by the legendary Tony Mott. We stood in front of fences, we sat on doorsteps, we wore black leather and white linen. And capes.
Wednesday was another day off and we made the most of it. It was, however, raining like an absolute ****. Sam found a nice vintage guitar store in the East Village, and the rest of us attempted to join Imi at Heath Ledger's cafe 'Five Leaves' in Greenpoint. Truffle chips were to die for. Unfortunately, Nick made everyone get off at the wrong subway stop and it ended up being an hour's walk in the rain. Imi, meanwhile, was eating her way through a pancake storm at Five Leaves.
Thursday ended up being a beautiful day after the day of rain. We had a gig in Chinatown at a place called Fontana's, apparently with a band featuring Johnny Marr. We later found out that it was some guy called Keith Marr who was called "Johnny" by his friends. That's definitely gotta be illegal.
Fontana's

Saturday would be the last day of shows for CMJ, and what a day it was going to be. First, an afternoon show at the Delancey for the Aussie BBQ with all of our best friends – the Grates, Cameras, John Steel Singers and WIM. We were on pretty early and played our little hearts out, before enjoying some very energetic performances both downstairs by the Grates and upstairs by JSS.
We then moved crosstown and played our last show at 'Kenny's Castaways', a NoHo institution that has housed everyone from the New York Dolls to the Fugees. We decided we were going to blow the tops off the place, especially when we found out that Kenny's did not have a dancing license. DANCING LICENSE?!?
We got the frat boys up the front dancing, and everyone else soon followed. After us was a Boston band called Bearstronaut, who were pretty great. Kind of a more disco-y Foster the People if they were fronted by Paul Banks [of Interpol].
Imi went to a swanky SoHo restaurant with her friends, and the rest of us journeyed to the Tribeca Grand, where we out-swanked Imi by jumping a 500-person line to the Fool's Gold record label party. After some free booze (and a $14 gin and tonic), we decided the high life wasn't really our thang and went back to SoHo to hang with Imi and her friends at a French wine bar to celebrate our first week in NYC.
And so Guineafowl said farewell to there tour and a final good night to New York City before returning home to Australia.
Good night Nick and Lochie. 'Til next time…

Follow the adventures of Guineafowl on facebook or better yet buy their EP via Dew Process.
All Photos Provided by Guineafowl