The argument of 'Which decade had the best music?' has been raging on since the dawn of time (or at least the dawn of records), but the greatest era in film soundtracks? That belongs to the noughties, in this Entertainment Editor's not-so-humble opinion.
[jwplayer sNd5cmTH]
Don't believe me? Just check out this golden list of epic noughties movie soundtracks from Disney flicks to Golden Globe winners.
Millennials, prepare to relive your teen dream.
1. Moulin Rouge! Music from Baz Luhrmann's Film (2001)
Tracklist highlight: 'Lady Marmalade' by Christina Aguilera, Lil' Kim, Mýa and P!nk.
Best musical scene: The sad, beautiful, tragic 'Come What May' that Christian pens about his ~forbidden~ relationship with Satine.
Every time either of them sings this song, they secretly declare their equally deep and true romantic love for each other.
The song was nominated for a 2002 Golden Globe Award for Best Original Song in a Motion Picture. Rightly fkn so.
Why it's on the GOAT list: 'Lady Marmalade' will go down as one of the greatest group collaborations EVER.
Many modern day pop acts have tried to recreate the magic that these four conjured but literally no one has even come close.
While this absolute 11/10 banger is the highlight from the album, let's not forget about all of Nicole Kidman's epic musical numbers.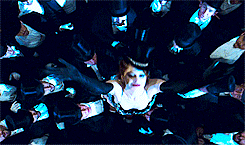 2. Almost Famous  (2000)
Tracklist highlight: 'Tiny Dancer' by Elton John.
Best musical scene: When Russell returns from his acid-fuelled bender, the palpable tension in the air on the tour bus is beautifully cut by this song as the entire gang sings in unison. Hold me closer, pls <3
Why it's on the GOAT list: The Grammy Award-winning soundtrack perfectly captured the vibe and feel of the '70s and added authenticity to the yarn that was being told.
The filmmakers manager to secure bangers from some of the greatest musical acts of all time like The Who, The Beach Boys, Led Zeppelin and David Bowie, to name a few.
3. A Cinderella Story (2004)
Tracklist highlights: Every song by Hilary Duff.
Best musical scene: When Sam (Duff) can't bear to watch Austin (Chad Michael Murray) play footy so she gets up to leave. As she's leaving, Austin, in a huge power move, tells his dad that he's giving up on his dad's dream of footy to pursue his own dream: Sam.
The couple embrace in front of the entire football field and their combined forces, aided by Jimmy Eat World's 'Hear You Me', summons a heavy rain that ends the long-running drought.
Pure magic, folks.
Why it's on the GOAT list: Because not only did Duff record a grand total of SIX (6) bops for the soundtrack, all the while playing the lead role, but they also nailed down some primo acts to fill out the track list including the Goo Goo Dolls and Jesse McCartney.
Oh, and Hilary and Haylie Duff's cover of 'Our Lips Are Sealed' was an absolute triumph.
4. Charlie's Angels (2000)
Tracklist highlight: 'Independent Women' by Destiny's Child.
Best musical scene: When the butt-kicking babes fight Creepy Thin Man with the high intensity 'Firestarter' by Prodigy in the background to amp up the stakes and the drama.
Why it's on the GOAT list: The filmmakers did a sick job of teaming songs to a relevant scene.
Like when 'Heaven Must Be Missing an Angel' played during Nat's (Cameron Diaz) dream and 'Barracuda' when Alex (Lucy Liu) is being a boss babe.
5. Mamma Mia! The Movie Soundtrack (2008)
Tracklist highlight: ABBA. Full stop.
Best musical scene: Whenever Donna and the Dynamos performed a musical number together (see above for reference).
Why it's on the GOAT list: Based on the musical of the same name, the iconic ABBA bangers perfectly weaved the story told in the flick.
The album was nominated for a Grammy Award for Best Compilation Soundtrack Album for Motion Picture, Television or Other Visual Media.
6. High School Musical (2006)
Tracklist highlight: 'Breaking Free' by Zac Efron and Vanessa Hudgens.
Best musical scene: If you didn't visualise yourself trading places with Ness Hudgens during the 'Breaking Free' number, were you even alive in 2006?
Why it's on the GOAT list: The HSM soundtrack got many of us through the final years of high school.
The lyrics told stories that were totally relatable to all high school students, even if you didn't attend a school where kids spontaneously got up to dance during lunch time.
'Status Quo' was a brilliant coming-of-age number, 'Get'cha Head In the Game' got me through many a P.E. lesson and not gonna lie, 'We're All In This Together' played in my head one too many times on graduation day.
Like it or not, HSM raised us.
7. Shrek 2
Tracklist highlight: 'Holding Out for a Hero' by Jennifer Saunders.
Best musical scene:'Holding Out for a Hero' by Jennifer Saunders.
Why it's on the GOAT list: 'Holding Out for a Hero' by Jennifer Saunders.
8. 8 Mile: Music from and Inspired by the Motion Picture (2002)
Tracklist highlight: 'Lose Yourself' by Eminem.
Best musical scene: The rap battle scene was all time.
Why it's on the GOAT list: This movie / soundtrack came into our lives at the perfect time: When we were angsty youngsters in need of something to blast through our discmans or mp4 players when we were sent to our room for forgetting to defrost the chicken while mum was on her way home.
9. Coyote Ugly (2000)
Tracklist highlight: 'Can't Fight the Moonlight' by Piper Perabo.
Best musical scene: When her love interest dances on the bar to INXS' 'Need You Tonight'. Sexually confused young Matt Galea had a gay old time (pun intended) with that scene.
Why it's on the GOAT list: The flick told the story of a gal named Violet (Perabo) who moved to New York to pursue her dream of songwriting so ~naturally~ the soundtrack is lit.
10. Step Up 2
https://www.youtube.com/watch?v=GUHMqQ47Vns
Tracklist highlight: 'Low' by Flo Rida featuring T-Pain.
Best musical scene: The epic final dance in the rain. Show of hands: Who totally ripped off some dance moves from this? Don't lie binches, you know you did.
Why it's on the GOAT list: This album soundtracked many a dance party in 2008, back before we were old enough to hit the clurbs. And for the older millennials among us, I'm sure the tracks from this album conjure some godawful but brilliant mems from your early clubbing days, complete with apple bottom jeans and boots with the fur.