PEDESTRIAN.TV has partnered with Queensland Health to help you improve your mental wellbeing.
I've found I've been reflecting on my life ~a lot~ recently, and you know what, I'm ready to make some changes.
Besides finding a life partner and actually paying my future self some superannuation, my number one priority for this year is to get into nature more often. Be at one with the great outdoors. Embrace the wild.
Because when you've gotten into bad habits like sinking into the couch as soon as work finishes or sleeping in a little too liberally every weekend, you can forget how simple things like a short walk outside can do wonders for your mental wellbeing. 
This dependent relationship with the natural world is not a new thing. Our human affinity with nature is rooted in evolution and psychology, and it's been proven that time outside improves our physical, mental and spiritual wellbeing. It reduces stress, can improve our BMI (through exercise) and can even help with brain cognition and problem-solving. 
Now that the weather is muy bueno, it's prime outdoor hang time. But let's go beyond just sitting in the local park eating questionable blue cheese and drinking warm white wine. It's time we all got properly down and dirty. Here's how: 
Take that doggo for a walk
I don't know much, but I do know that patting and walking dogs make me feel happy. So, I very much like the idea of establishing a neighbourhood dog walking situation which basically involves me volunteering to walk all of my neighbourly canines. You also like walking doggos? Let's do it together.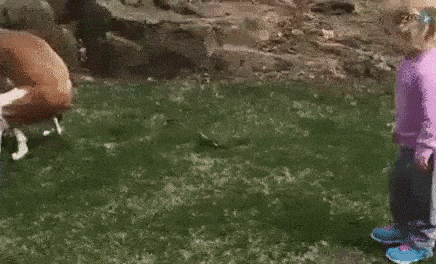 Clean up a beach 
Live near the seaside? Fancy a trip to the seashore? It's not hard to combine your next beach walk with a beach clean-up. We all know the ocean is choking on plastic, so why not take a rubbish bag and clean your local patch of sand? It'll make you feel good, it'll make your beach look good, and it could make for great outdoor hangs with your amigos. 
Build a veggie garden
No space? No worries. Urban farming is like so cool right now. We're talking pallet gardens and hanging plants, trellises of tomatoes and teeny tiny herb gardens. Veggies are super adaptable, and with enough TLC they can grow almost anywhere. Get a few mates over, promise them a share of the haul once it's grown and get your hands in some soil. 
It's also a great excuse to get outside at least once a day to either water, weed or pick from your bountiful crop. You'd hate to see your baby basil plant wither away, so grab some gloves and get into the sun to spend some time with your leafy pals. It's good for the soul. 

Elliott Lyons, ambassador for Queensland Health's mental wellbeing campaign, Dear Mind, recently started his own organic produce business called 'The Farm Folk' and told PEDESTRIAN.TV about the incredible benefits of growing your own food, beyond the beautiful taste.
"It's an incredibly humbling, rewarding (obviously hehe) and exciting project regardless of the size of your operation! I still remember the excitement of the first time I picked a few leaves of basil that I'd grown myself for the first time – I don't think food had ever tasted that amazing before. So just give it a whirl!" said Elliott. 
Now, growing a veggie patch doesn't have to be an overwhelming experience – it's all about being more in touch with nature and doing something you know is great for yourself and the environment, so even if it's a small bed of basil, know that you're doing good things for your overall wellbeing.
"Whether it's herbs or micro herbs in a small pot on the window sill or a little veggie garden out the back we can all source a few seedlings from our local nursery and get a bit more in touch with where our food comes from," added Elliott. 
BRB, growing my own coriander plant for max meal-flavour and wellbeing benefits. You in?
Become a forest volunteer 
There are heaps of different forestry commissions and corporations that are looking for gangs of enviro-friendly, outdoor enthusiasts willing to help with bush regeneration, track construction and forest maintenance. Plus, studies have shown that forest bathing (the intentional practice of immersing yourself in nature and connecting with the natural world) may reduce stress, anxiety and can help stabilise the nervous system. 
There's also the 'uge benefit of the sweet endorphins you'll lap up after having spent time in nature knowing you were actively doing something to better mother nature. If you want to reap the rewards of volunteering, you can head to the Queensland Government website to find a project near you.
Paddle the local river 
Sure, you walk beside the water all the time. But have you ever paddled a river? Grabbing a bunch of rental kayaks or canoes and cruising your local river or lake is not only excellent exercise and excellent friend bonding, but you get to see your local area from an entirely new perspective – the water. 
There's honestly nothing more freeing than knowing you'll be leaving your phone on land, allowing you the time to completely focus on yourself, your mates and the gloriously calming body of water you're in. That is mindfulness with a capital M at its core. Hike in/hike out camping 
Forget driving up to a campsite that's surrounded by 125 other people and involves an intricate kitchen setup inclusive of a blender for your morning smoothie. That's not real nature. If you want a bona fide outdoor experience, grab a few mates who are good at walking, stuff your packs with freeze-dried curry and pick a hike in / hike out camp spot. We're also in a super lucky position in that throughout Australia (and especially in QLD), there are a plethora of the world's most gorgeous national parks and nature walks at our fingertips ready to explore. 
You'll be rewarded with a next-level landscape, fresh air, a night under the stars and some serious peace and quiet – it's what our brains deserve and require as a way to recharge after intense weeks of work/study and general life stress too. 
Do some outdoor yoga 
People forget that yoga doesn't have to be practised on a mat in a studio. You can pick up that mat and take it anywhere. Yep, even outside! Grab your yoga buddies and hit up a semi-isolated patch of grass (or sand, if you leave near the coast you lucky bugger) for your next sun salutations. Hell, even do it at sunrise for the full effect. This would be the perfect mindful state to smell, see and experience nature.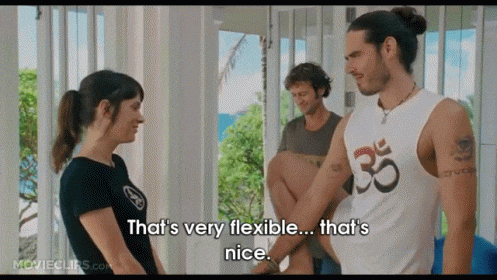 Go chasing waterfalls
Whoever said you shouldn't go chasing waterfalls has likely never experienced the sheer joy of standing beneath a natural cascade – a gift from the showering gods. We highly recommend exploring your local waterfalls/swimming hole for some serious outdoor zen time and refreshment to boot. Plus, as the weather starts getting warmer nothing beats a short hike and long dip. 
Looking for more ways to embrace nature and just generally live your healthiest, bestest life? The Your Mental Wellbeing website has got your back. 
Image: Friends