Once the ultimate hard-yakka Aussie boot for farmhands and stockmen that actually stomped 'round in cow poop all day, R.M. Williams took a solid turn somewhere around the 90's to become the boot of choice for every human being living in Sydney's Inner West/Melbourne's Inner North. 
As I look around Pedestrian's editorial team right now, I can spot two pairs of R.M.'s (s/o to James and Courtney) – they're pretty much a sartorial rite of passage for anyone in their 20's who loves a craft beer and a pub gig. 
Now it seems the LVMH owned company (yep, same company that owns fashion house Louis Vuitton – there's something for your next trivia night) is continuing with their style streak, releasing the women's Yearling Adelaide boots in none other than metallic gold.
When I first read the term "metallic gold" in relation to R.M. Williams, I thought of some shiny, gaudy shade – but the result is way more subtle.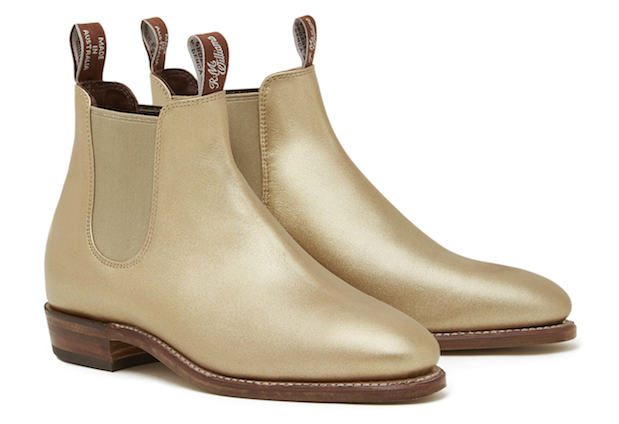 In true R.M. Williams signature style, the gold boots will be made from a single piece of leather, and these ones are special order only – so expect to wait 6-8 weeks for 'em to arrive.
Anyone who loves an R.M. boot knows they don't come cheap – the Yearling Adelaide in metallic gold will set you back a cool $545. But as everyone in the office who loves their R.M.'s stressed to me, look after them and they'll last you a lifetime. 
They're available on site now
, so prep your credit card.
Thinking of creating your own shoe range so you too can make bank on farm-cross-fashion footwear? You should enter our current comp c/o Set for Life – you could win $5k to kickstart your side hustle:
Image: Supplied.