When you're looking for a new place to live, what's most important to you – location, price or space?
If you answered 'location', you're not alone. New research by realestate.com.au found that, when searching for a new home, young Aussie renters still value location over everything else. But part and parcel of living in the trendy part of town is that you usually have to pay a premium rate and compromise on decent amount of space.
Not surprisingly, staying in a room that reminds you of Harry Potter's sad-ass cupboard is not a great feeling, no matter how much of a J.K. Rowling fan you are.
[jwplayer rttNtXI2]
But, loathe it though you may, your smaller-than-ideal room might not be enough for you to seriously consider moving house. It is, however, something you would definitely fix if you could.
While we haven't discovered a magical way to enlarge your room (soz, we're working on it), we have pulled together a list of things you probably don't realise are making your room feel even smaller.
1. Too much furniture
You might think you need a bed, chair, chest of drawers, two cupboards and a bookshelf but, realistically, you definitely don't. Trying to squish too many things inside a room just makes everything look completely cramped.
So, in the name of Marie Kondo-ing your life, why throw out any bits of furniture that don't add as much value to your life? Alternatively, if you can't toss anything out, try swapping the existing pieces out for transparent/clear designs.
2. Loads of artwork
The same principle of 'less is more' applies to your growing art gallery – keep your faves, and chuck/sell the rest.
3. Lots of dark colours
Dark colours are great at making a space feel cosy, however, if your room's already on the smaller side deeper hues will only make the space feel puny. The good thing is, this can be quite easy to fix – pick yourself up a tin of paint from your local DIY shop and get to work on your own room revamp.
4. Your curtains/blinds are always shut
Just like HP's digs, your room is going to feel very squished if you have no natural light coming in. Sure, sunlight streaming through the window might make your room a little warmer, it will look significantly less crap, so it depends what's more important to you.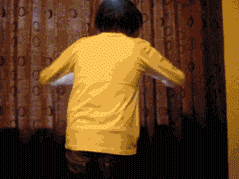 5. Clutter
Ah clutter – we all have it, and we might've even convinced ourselves that we actually need it. But there's a fine line between decorations that add value to your space and tabletops/mantlepieces that are literally just covered with disorganised mess.
6. Clothes racks
You might think that your exposed clothes rack will make your space feel bigger because it takes up slightly less room than a cupboard, but that's not necessarily the case. As soon as that rack starts to look a bit too full, your room is going to seem super cramped.
Try investing in lightly coloured wardrobes or drawers – not only will you get more storage space, but it'll also make your room look that bit more spacious too.
7. No mirrors
A room without any mirrors can also feel claustrophobic, flat and boxy. Whether it's dropping a fiver on a cheap full body mirror at your local dollar shop or investing in a slightly pricer decorative mirror, adding this one piece to your room will create the illusion of depth while also doubling as a functional addition.
8. A poor layout
Sometimes just reshuffling your room a bit can make it feel completely different. After all, there's a reason why people have practised feng shui for thousands of years. If you feel like your room doesn't quite 'flow', have a crack at re-jigging it.