If you've ever been to Byron Bay, chances are you have secretly (or not so secretly) kept an eye out for one of the über hot Hemsworth bros.
I mean, I haven't personally been to Byron, but everyone seems to come back regaling tales of near run-ins with Chris Hemsworth and Elsa Pataky or Liam Hemsworth and Miley Cyrus in cafes, just moments after seeing Angus and Julia Stone at the corner store.
In fact, the mere prospect of possibly sighting these babes definitely drives a decent amount of tourism to the area – just ask my housemate who proudly showed me footage he obtained from shamelessly spying on Chris eating lunch in the very chill beach town.
But aside from thirsty holiday folk, it seems the Hemsworths' residency is also driving up Byron Bay property prices. Yep, really. And I, for one, have no idea how this could happen.
Absolutely none.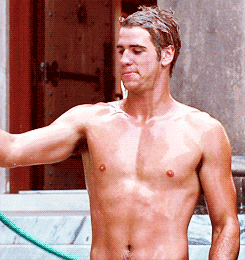 According to realestate.com.au's January 2019 Property Outlook Report – which pulls data from a whopping 80 million property searches –  the Richmond-Byron Bay area had the highest price growth of any New South Wales region over the last quarter.
Dubbed 'The Hemsworth Effect', the Byron property surge is the fourth strongest increase in the country, which is particularly significant given the broader trend of falling house prices across bustling cities like Sydney and Melbourne.
In short, the people's thirst for Chris and Liam is driving a trend so powerful that it defies the country's downward property market spiral. I honestly don't think I've ever been prouder to be an Australian.
"With Byron Bay's median price now at $1.75 million and higher than most of Sydney, demand has spread north and south of the
town and inwards through the hinterland," explains the report.
"Other regions that did well over the year include Coffs Harbour-Grafton and Hunter Valley."
So if you're looking to invest in property, maybe just following the hotties ain't such a bad approach?