Every Australian born this side of 1990 will remember the first time they heard an ad for premature ejaculation on the radio.
You were probably seven, you were probably in the car, you were probably with your dad and it was probably the most mortifying experience of your 2002.
Similarly to the WANT LONGER LASTING SEX? billboards that littered freeways around the same time, the ads had an astonishing power to come on just as a there was a lull in conversation. Like clockwork.
"Over 1 million men will agree our advanced oral strip technology reduces erectile dysfunction and keeps her happy!" an absurdly excited, breathy female voice would say before asking, almost rhetorically, if the men listening would like to join in and please their partner, too.
Thankfully, the invention of bluetooth technology in cars means we no longer need to listen to the radio, thus avoiding any and/or all awkward moments. But the issue of premature ejaculation lives on.
A new global report finds 1 in 3 Aussie men believe they're affected by premature ejaculation, with 1 in 10 saying they experience it 'all the time'.
The survey, which involved 4,000 'Strayan blokes, found that 33% say they've lost confidence in the bedroom due to the issue, 12% say they've turned to alcohol to try and last longer and alarmingly, 10% say they've done nothing about the issue due to being "too embarrassed to discuss it".
With this in mind, a brand new product has hit the market that's set to revolutionise the way we talk about (and go about managing) premature ejaculation.
Smiling Dick is a male climax control training program that involves a combination of written and video content on a sex-positive platform, as well as a brand-spanking new product men can use to train their bepises into going the distance.
The cheeky, fresh campaign is fronted by comedian Paul Verhoeven, who steps quite comfortably into the role of… your penis:
(After watching that in full, I want the product, and I don't even have a dick.)
To us, the most exciting part of this project is the first-of-its-kind Prolong Device (the only FDA-cleared control training solution available globally) that is scientifically-proven to help men last longer.
What is it, exactly?
The "seven gram, ergonomically-shaped vibrating piece of penis plastic" is a device penis-bearers can use as they whack off. The above video demonstrates it (with the help of the ultimate penile vegetable, the eggplant) but in case you didn't watch, let us explain.
You start to spank the monkey, and as you do, you rub it on the underside of your member. Just as you're about to come to the party, you take it off, and repeat a few times before retiring into the sweet release.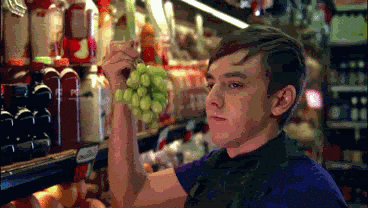 It's like P.E. class, for your PE troubles.
You don't even have to experience premature ejaculation to ream the benefits of the program; it works for blokes just looking to train themselves into lasting 4ever, too.
You and your Richard can read more / buy one of 'em, here.
Long live the D. The glorious, empowered D.