In the least shocking news of the day, it turns out it's quite common for your Average Joe to be unfamiliar with sexually transmissible infections (STIs), what they are and how they're contracted. I mean, it's a pretty touchy subject and no one quite knows how to tackle it, so it's often swept under the rug along with that memory of you making out with a Barbie in the shower. (Just me? Cool.)
Personally, I was late to finding out about STIs because the extent of sex ed I received at school was how to put a condom on a piece of fruit and that it's hunky dory for you to accidentally cum the bed while you sleep.
There's a chance we learnt more than that but I was just too distracted by everyone openly talking about wet dreams while I sat there like, "So, everyone here has experienced this? Yeah, same. So much same."
Anywho, now that I'm up to date on all things sex-related, I've taken the liberty to clarify a few things.
Not all STIs have visible symptoms
So, you reckon if you don't show any symptoms then you're in the clear? I have some unsettling news for you.
A slew of STIs don't actually have any noticeable symptoms, so you could be swinging your STI-riddled peen or vageen around town without even knowing it. Never just assume that you're clean and always get tested.
Certain STIs are forever
Without going full Coach Carr in Mean Girls, this one's pretty damn serious.
While it's not exactly the end of the world, contracting certain STIs can be a permanent situation. Herpes? Bam. You've got that for life. The good news is that we live in 2018 so if you have contracted one of the lifelong infections, there's usually a tonne of medicine and help available which is why it's even more important to get tested.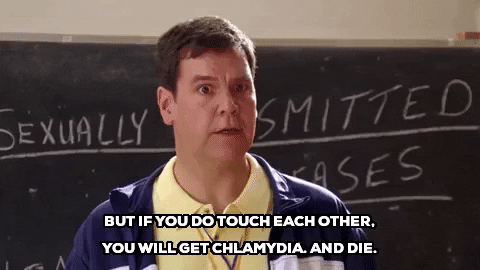 STIs can be transmissible orally
Hold up, y'all think you can only contract an STI through intercourse? Think again.
There are a number of ways that an STI can be contracted through oral sex – think cuts in the mouth or if someone has a cold sore (technically an STI too, FYI) when they're down there. The only real way to eliminate any risks is to ensure you've both been tested (and STI free) and by wearing a dinger on the dong even for mouth shenanigans.
STI checks can be free
For the record, it's easy peasy to get an STI check.
Most Aussie cities have GPs that do bulk billing, or you can find free STI clinics practically anywhere. You can scope out the easiest place to get tested here. Either way, just get checked every time you're with a new partner.
While symptoms of certain STIs can often disappear by themselves, the STI itself stays in your body like that messed up smoky nightmare from FernGully.
All your past & present squeezes should know
Alright so here's the deal, despite the strong urge to keep your STI to yourself (literally and figuratively), you really need to let people you've fooled around with know.
Even if you don't think there's a strong chance that one of your former flings could be infected, it's basic human rights to ensure a person can do everything in their power to address the problem and hopefully find a solution (if they do indeed have the same STI).
The good news is that you can use services like Let Them Know which tells people that you have an STI without having to give them your name. Failing that, you can also send a detailed text and then bury your phone in the woods until the whole thing dies down. Options, people.
Some preventative measures & remedies
Thankfully, there are ways we can prevent the spread of STIs and if you're unfortunate enough to contract one, you can seek help from a medical professional who knows their stuff to give you the appropriate steps. For instance, ridding yourself of Chlamydia is usually as simple as taking a single dose of antibiotics.
To minimise the risk, ensure regular STI check-ups and always practise safe sex. Like, always. None of this "oh, I happened to forget my condom" spiel. If someone doesn't want to be safe then you might want to look elsewhere.
Lube can also be wildly useful, as a smooth, well-lubricated jaunt in the sack can prevent tearing (and subsequent bleeding) during sex.
Just, you know. Always practise safe sex, guys.
Head to the Queensland Health Stop the rise of STIs website here to read more.