Facebook may have decided that you shouldn't see the news, but we think you deserve to be served with PEDESTRIAN.TV's spicy content. To sign up for our daily newsletter filled with the latest news, goss and other stuff you should care about, head HERE. For a running feed of all our stories, follow us on Twitter HERE. Or, bookmark the PEDESTRIAN.TV homepage to visit whenever you need a news fix.
There was a time when the world unanimously stood at attention, fervently united by the love for a song about condiments. "The Ketchup Song (Aserejé)" was the debut single from Las Ketchup, a Spanish girl group comprised of 3 sisters.
It subsequently topped the charts in 27 countries, including 3 weeks atop the ARIAs. It sold over 7 million copies worldwide and was immediately propelled into the upper echelons of the music game as one of the greatest selling singles of all time.
I was 7 at the time of 'The Ketchup Song's release, and it well and truly gave me fanny flutters. I literally remember sitting my granny and uncle down in the living room and forcing them to watch me perform an improvised version.
My granny gazed at me admiringly, whispering to my uncle, 'Look, he already knows how to speak another language', as I passionately popped my pancake booty whilst yelling stream-of-consciousness gibberish at the top of my lungs. 'Ketchup Song' would ultimately stay imprinted on my heart for years to come.
Before we get to Las Ketchup's journey, though, we need to talk about the meaning of the song.
Many were quick to point out the chorus' homage to the first verse of The Sugarhill Gang's 1979 "Rapper's Delight". Play 'The Ketchup Song' with these "Rapper's Delight" lyrics in mind: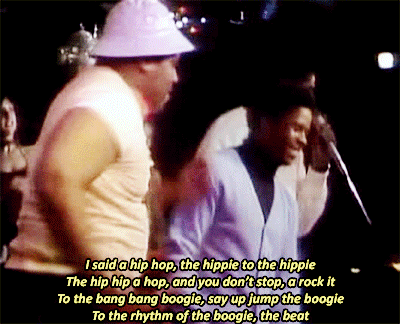 While Las Ketchup never confirmed nor denied this, there are some incredible similarities, no?
Well, according to this 2017 Buzzfeed article, Twitter user @Kueaff uncovered a wild theory about the song's meaning. Apparently the song is about a dude name Diego who takes a bunch of pingas, heads to a club and asks his DJ-mate to play his favourite song. When asked what that song is, Diego can't remember the name – probably 'cos of the pingas – so he starts reciting a gibberish version of "Rapper's Delight". Hence, the chorus.
Voy a tomarme el trabajo de explicar el Aserejé, porque la gente piensa que no tiene sentido, y tiene un montón de sentido *thread*

— Uruwacho (@Kueaff) September 19, 2017
In terms of controversy, there was also a really strange moment when many believed the song was making reference to demons and satanic beings. This is incredible, if true, because I'm already on a one-way path to hell. (I'm envisaging hell now… It's just going to be one huge gay club with Vodka sodas on arrival and biodegradable glitter everywhere. A mood.)
Long story short, despite the controversies and theories, 'The Ketchup Song' fucking slapped. Hard.
Alas, all good things inevitably came to an end.
Las Ketchup seemed to head down a slippery, saucy slide into oblivion at the same ferocity as their initial rise to success.
So, what really happened to Lucía, Lola, Pilar (and later, Rocío) Muñoz?
To start, their debut album Hijas del Tomate, ("daughters of tomato", which is a vibe in and of itself) fared quite well following the release of 'Ketchup Song'. It topped the charts in Spain and Finland for a hot moment, received a nomination at the Latin Grammys and enjoyed varying degrees of success in several other countries.
As is the case with many – dare I say it – one hit wonders, their second single, well… flopped. 'Kusha Las Payas' did top the charts in Romania, though, which is a flex of some sort. But, besides Romania, the single only cracked the top 20 in Italy and Spain.
The sisters then took a hiatus, before re-emerging in 2006 with additional sister Rocío (glad you finally made the cut, sis) to represent Spain at Eurovision. They did rather shit, coming in 21st place with their song "Un Blodymary". UN BLODYMARY… THESE NAMES ARE SO ICONIC THOUGH.
Their second album, understandably titled Un Blodymary, also did rather shit and – cue narrator's voice – they never released a single again.
They did, however, make a surprise appearance at Sweden's Melodifestivalen festival a decade later in 2016 and, since then, have been doing some mini tours.
The last piece of news I can find about them is from a 2018 ESCXTRA article, which claims the group had a "disastrous" performances in Finland, arriving a couple hours late and yelling "Que tal Helsinki!" despite the performance taking place in Karjurock, 200 kilometres from Helsinki. Tea.
Side note: I think this may be their Instagram, but it also very well may not be.
Either way, I want to give a middle finger to Las Ketchup's haters. I thank you, Lucía, Lola, Pilar and Rocío, for making my booty jiggle at the ripe old age of 7 and I thank you for making my slightly-less-pancakey-but-still-rather-pancakey booty jiggle now.
'The Ketchup Song' still injects my brain with endorphins every time I press play and, for that, te amo.
El fin.