There are few things that typify '90s childhood more than Pokémon and Tamagotchi. Picking which toy to take to school with you was like Sophie's Choice. Either you picked the Tamagotchi, and missed out on morning tea trading sessions, or you opted for the treasured Pokémon deck and ran the risk of returning home to a deceased Tamagotchi (cos your mum didn't care about it enough to check-in every half hour).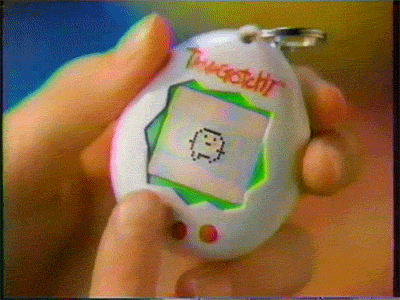 In short, Pokémon and Tamagotchi played a significant role in our formative years and, arguably, shaped us into the people we are today. So when we heard that the two major toy brands are rumoured to be joining forces, we lost our collective shit.
News of a possible collaboration first broke when Serebii leaked an image from Japanese imageboards and Twitter, showing mock ups of a Pokémon x Tamagotchi collab:
Serebii Update: Unconfirmed sell sheet potentially reveals a special Eevee & Tamagotchi collaboration. Details @ https://t.co/gDbXkHSvkT pic.twitter.com/HnNFBFjorp

— Serebii.net (@SerebiiNet) November 6, 2018
The pictures in question show a Tamagotchi Nano dedicated to (the cutest Pokémon IMO), Eeevee. Then, based on your care for this bundle of cuteness, your digital pet transforms into one of the eight possible Eevee evolutions.
Possible evolutions include a fully-sick Team Rocket Eevee and yes, my face currently looks like this: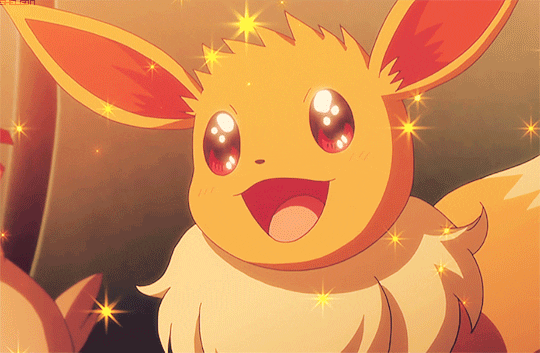 The Tamagotchi itself appears to come in two colourways, including a dusty pink style and a buttery yellow option.
While the Pokémon x Tamagotchi collaboration is yet to be officially confirmed by Nintendo, it's believed these beauts might be released in line with the upcoming Pokémon: Let's Go release.
Naturally, we're already psyched at the possibility, and so is Twitter:
Oh my god! Dreams do come true. I told myself no more Tamagotchi purchases other than the Meets but if these release this year.. I am sold! #Pokemon pic.twitter.com/osGjznldI9

— Priscilla McElligott (@Cilllah) November 6, 2018
Shut up and take my money #pokemon #tamagotchi pic.twitter.com/h2NOr1vTRF

— Leniwiec (@Leniwiec9) November 5, 2018
Pokemon x Tamagotchi Collaboration: Leaked Image https://t.co/DPj2ESouAB pic.twitter.com/LiUGtEPjOc

— geosportsnews (@geosportsnews5) November 7, 2018
oh my god!!! are these really pokémon tamagotchi nanos coming?! #eeveetamagotchi pic.twitter.com/4iciqPnUN7

— deadly nightshade (@dessocean) November 5, 2018
Don't you worry everybody, I'll keep a close eye on this "Tamagotchi Eevee" Nano & keep everybody posted. I'm really excited about this, so I hope it's legit (Serebi posted about it, so I'm leaning towards a yes). #Tamagotchi #Pokemon #TamagotchiEevee #TMGC pic.twitter.com/2sePDKs8PW

— Julie (@toloveLfromVine) November 6, 2018
One look at the @NintendoAmerica  Twitter and these guys are totally avoiding commenting on the Tamagotchi rumours, promoting only Pokémon: Let's Go:
Every Pokémon Trainer knows that to become a Champion, you must defeat the powerful Elite Four! Will you be prepared to take on this final Pokémon League challenge in #PokemonLetsGo?https://t.co/432d7Th92t pic.twitter.com/xX683aKmmp

— Nintendo of America (@NintendoAmerica) November 7, 2018
Welp, it looks like the only thing left to do now is sit back, pray and wait for the good news.
So that's exactly what we'll do.
Image: Nintendo / Bandai